Splitting a design in PE Design using Photostitch design as an example
---
Original text by: Lisa Prass
So, you have created or downloaded a machine embroidery design that does not fit you hoop. Now, to embroider the design, you should take a series of actions to split it. In this lesson I will show you how to split a design, how to add the alignment stitches and crosses, and how to save it into two different files, using a "Stitch" machine embroidery design in Photostitch technique as an example. The process includes several basic steps...
Splitting a design: creating and positioning of the hoop 
Using the Rectangle tool, create additional objects that will imitate your hoop. Place them in the embroidery area so that your machine embroidery design would be within these virtual hoops. If you don't like what you see, change the position of the hoop until you will achieve the result you want.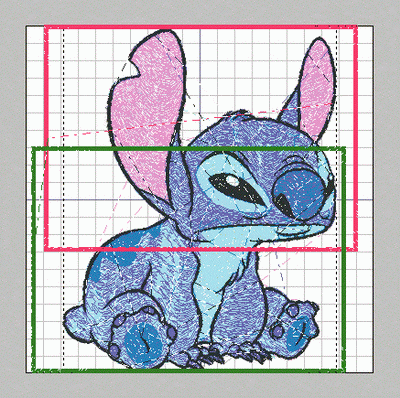 The hoops for which you split your design must have an intersection (remember what you learned about the intersection of sets at school?), otherwise the alignment with the help of crosses will be impossible.
Splitting a design: how and where? 
The main task of splitting a machine embroidery design is that the separating lines must not be seen when embroidering. Therefore, you should understand where it is better to split an object and whether it is possible to get along without splitting. Learn to split so as to hide the separating lines under the last embroidered objects. After splitting the design in your mind, proceed to do it in reality. Instructions on what splitting tool to use and how, you can find in video tutorials on Youtube. Having split the design, you now come to the next part: adding of the alignment stitches.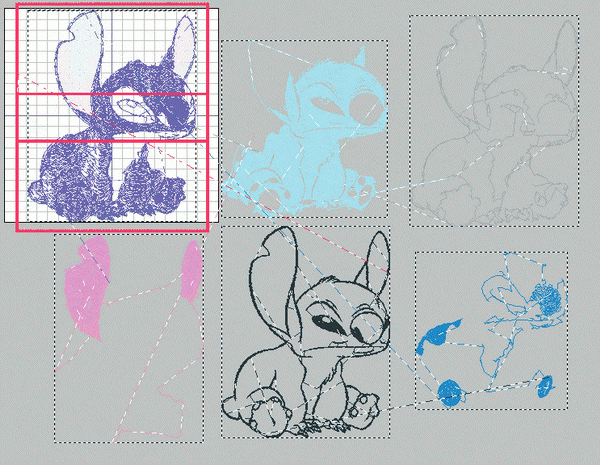 Splitting a design: adding alignment stitches/crosses 
Some people prefer alignment stitches, some use alignment crosses. Both are utilities allowing you to quickly and within the accuracy of 1 mm join two designs into one project while rehooping. Recommendations on what tools and with what preferences you should use when creating the utilities for making the joining process easier, you can find on Youtube.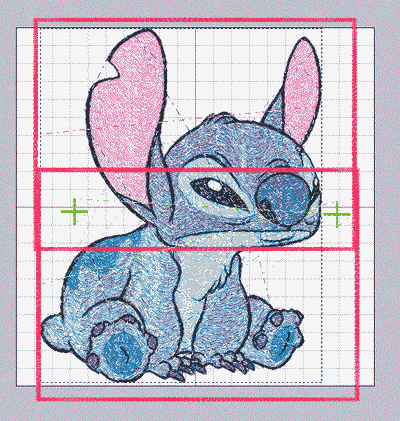 Alignment stitches and crosses are always situated in the hoop intersection area and are present in both first and second parts of a design. In the first part of a design they are embroidered last, and in the second they are embroidered in the beginning. They must match together. If they match loosely, you should rehoop the fabric or change the design position in the hoop. If possible, place you alignment stitches and crosses where there will be no embroidery. If there is no such possibility, delete them after aligning.
Splitting a design: saving 
After having completed the splitting you should save the result into two different files, which will be embroidered one after the other, and choose which one of them will come first. In our example, we embroider the body first and then the head. Is it clear, why? Because if there is a minor offset, Stitch's head won't look like it is incorporated into his body. Before saving your design delete the virtual hoops, because they have completed their task and you won't need them anymore. 
After this lesson you'll have 2 files as a result: Body. PES and Head.PES. Steps in these files go as follows: 
Body.PES: First, you embroider all the objects of Stitch's body, then the alignment stitches and crosses. 

Head.PES: First, you embroider all the stitches and crosses, and then all the objects of Stitch's head.
1