For those who begin to learn machine embroidery techniques by themselves
Original text: unknown
Good afternoon! Among the lovers of the machine embroidery there are those who prefer step-by-step tutorials, master-classes and other guidance materials, and there are also the ones who try to master the great variety of working practices all by themselves. For whose who are on the brink of engaging into learning machine embroidery techniques by themselves, here's a little bit of advice. 
The phrase "learn by yourself" does not mean "turn a blind eye to all that has been previously written on the subject", but "to use what has been previously written and to fill the gaps". 
Learning machine embroidery technique by yourself 
What you should notice when mastering the technology of embroidering on a specific type of fabric. 
The fabric and its characteristics 
You should know the fabric you are going to work with. Learn, if only superficially, its characteristics. Whether is stretches or not. Whether it is loosely or densely woven. Whether its surface is smooth or piled. 
If we are talking about using machine embroidery techniques on different types of fabric, I'd like to name it "Machine embroidery on the types of fabric that give you trouble", because in most cases embroidery on a densely woven smooth-surfaced material does not you cause any trouble at all, even the chosen design is a bit too dense.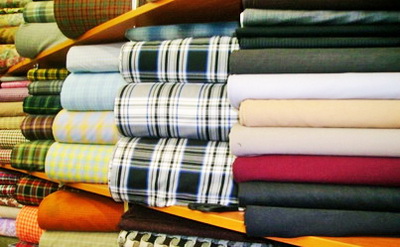 Stabilizers and hooping methods
First of all, learn the main types of stabilizers in existence. We have already described various types of embroidery stabilizers and where to use them; also you can search our forum for tips. Try to figure out what type of stabilizer will be better for you fabric. Whether you should use a water soluble stabilizer or not. Whether you need an underlay and of what kind. When to use a tearaway stabilizer and when a cutaway will be better. Whether you should hoop the fabric or better go without it. 
Needles and threads 
You have probably noticed that many needles for machine embroidery and sewing are made for specific purpose. There are omni-purpose needles, embroidery needles, also needles for metallic thread, silk, woolen fiber etc.
First, learn the materials available and then use what you have. Perhaps, the main recommendation on using needles will be as follows:
You should not use expensive needles when working with densely woven fabrics that do not cause trouble, and when working with delicate fabrics such as silk or calico you should not use the same needles as you do for densely woven ones. Try to use rare and expensive needles for their intended purposes. 
The threads come in different types, too, and each of these types has its own usage recommendations. The main types of thread are polyester, viscose rayon, wool and cotton. The last two are the common polyester threads without luster, but with the addition of wool and cotton. Try using different threads with different types of needles available in your machine.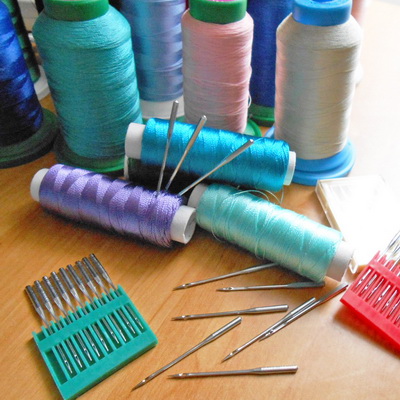 When choosing which ones to use pay attention to the width of needle's eye and thread thickness. When you use a thick woolen fiber, you'd better not choose a narrow needle's eye. 
And so, gradually, you will understand, whether you should use a thick thread when embroidering on silk if you cannot use a thin needle with it. Whether you should choose a big eye needle when working with a thin thread. How many needles for silk will you need to embroidery a dense design on the tarpaulin... 
The Designs
For a beginner all machine embroidery designs look the same. Beginners don't pay attention neither to the density of the design nor to filling characteristics. They don't yet know what the words "satin", "tatami" and "motif" mean. But such a situation won't last long. After having embroidered a dense chevron on a thin knitwear and having got a "bulletproof vest" as a result, or having embroidered a rare stitch on a terry towel you will understand that you should pay attention to design characteristics. To understand how a satin column pulls the fabric, how the tatami behaves, what restrictions apply to the stitch designs and where they will look good and harmonious. 
We will definitely write about all this in our blogs, and meanwhile we suggest that you embark on a journey of learning the machine embroidery techniques by yourself.
3

3