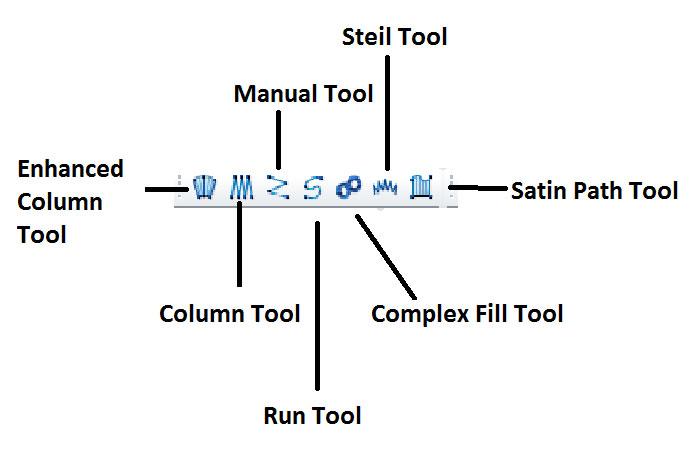 In this blog we are going to introduce you to the basic digitizing tools, where they can be used and options you may have for the different tools depending on your level.
Enhanced Column Tool This embroidery digitizing tool is very similar to the Satin tool except it the main difference between this tool is you place the angle lines by your nodes, where as a satin tool you choose where you want your angle lines. I first learned to digitize using this embroidery tool. This has the same range as a Satin Stitch .03 to .42 inch. See example on how to use below.
Uses; borders, shapes, text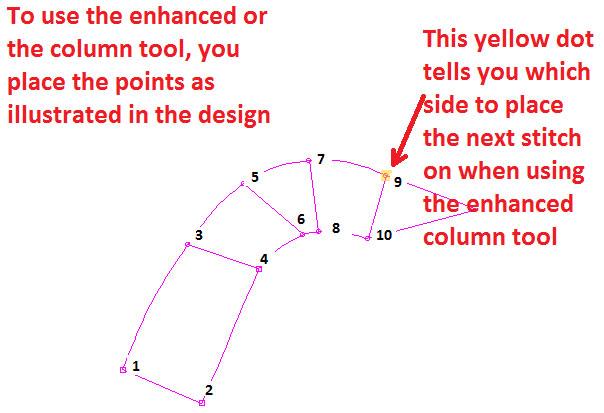 Column Tool This tool is very similar to the Satin tool except it can only do straight sections, rectangles between .03 to .42 inch. It follows the same rules as Satin stitches. The main difference is the angle lines are defined by the placement on the nodes. You can use this tool to bend right angle around corners. See example above ,
Limitations it only uses straight lines no curves, some text and simple column stitches
Manual Tool This tool is very unique in how it works, this tool where ever you click it places a point, it can be useful but you have to remember what your machine will do if you place too large of a stitch, I recommend stitch lengths between .02 and .15 of inch maximum.
Uses; decorative stitches, fancy manual fills, manual underlay. placement stitches..
Run Tool This tool is very different then the manual tool although they can be used for the same uses, the approach is very different. Stitches are placed by specified distance, the stitches are even. All you need to do is draw your line and it will add the stitches accordingly.
Uses; decorative stitches, fancy manual fills, manual underlay. placement stitches..
Complex Fill Tool This should be a tool you should become practiced at as you will use it in about seventy percent of your designs, it works in a wide range of sizes from .03 to infinite,. Great for filling in large areas, uniform stitches to cover and area. Draw your shape and complete the segment and it will fill the shape in , then you can select your fill pattern, density etc.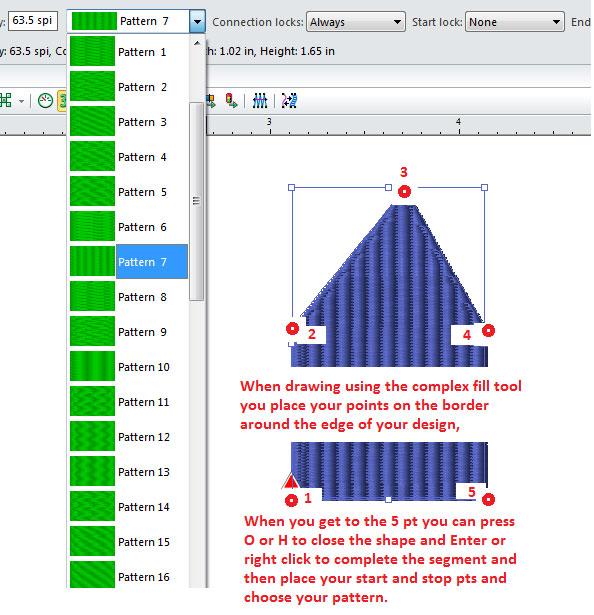 Uses; Large text, text with borders, large areas, decorative patterns,
Note With in the fill their are quite a few patterns, and options depending on your level, including the use of carved patterns, program fills and standard patterns.
Steil Tool This tool is available in Tajima Illustrator Extreme and higher, this tool is a tight zig zag stitch, this can be used with some options like add border to fills on some levels, its great as a borders as the thickness is consistent. Its also can be changed on the fly.
This tool works like a run tool , you draw your line and set the width and your done.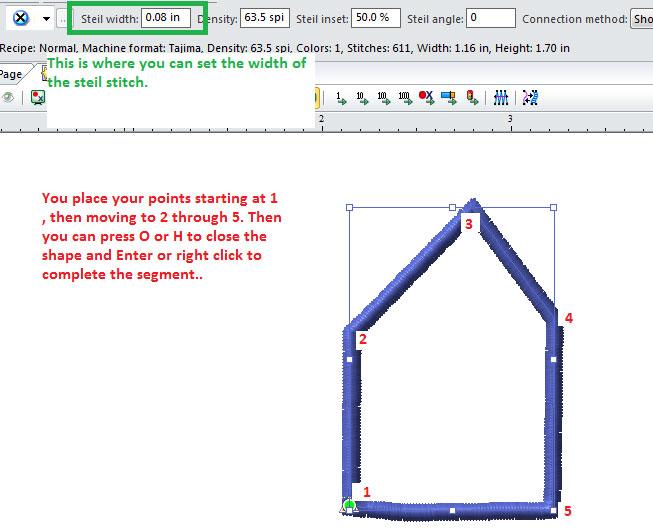 Uses; borders, lines, out line shapes, applique, and more.
Satin Tool This tool you draw the shape then close the shape and then place your angle lines. It can be very useful using this tool when digitizing text I use this tool, and use it fifty percent within designs. The stitch range is around .03 to .42 inch.
The satin tool operates very differently , you place your out side shape and when you complete the segment it will prompt you for your start and stop points, and your angle lines then you can generate the stitches.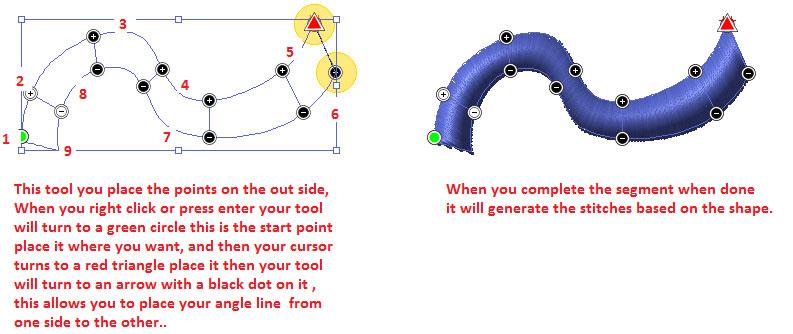 Note: when you get above .38 in stitches will get loopy and you may want to convert them to a fill stitch.
Uses; Text, borders, design elements
Design Elements
In the pictures below you will see some embroidery design elements based on these basic digitizing tools, with these tools and the Tajima Illustrator Extreme level you can punch 85% of the designs used in most shops. The higher levels have some additional tools and processes for speeding up the digitizing process including specialized digitizing tools for chenille, sequins, and boring, cording etc.
In the embroidery design below you will see the original image on the left and the digitized file on the right , we have pointed
out several of the different stitch types used. This machine embroidery design and similar can be made with the basic digitizing tools and the text tools we covered in other blogs.
In the design below you can see that the steil tool was used to make a border around the design in a uniform circle this is perfect for the steil tool as it set to a width you choose, where the satin tool can very the width at any point allows you to customize the shape. The circle text tool was used to make circular text. The run tool added some fine detail to the clubs and ball.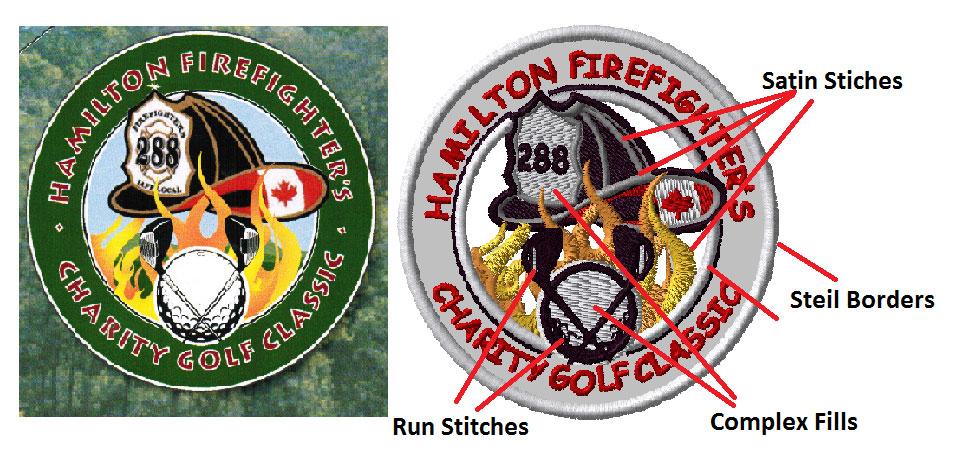 In this second design below you will see that the run tool was used as a primary stitch to add detail to the design. The fill tool was used to cover larger areas, and the steil tool was used around the tongue and the satin tool was used for the shapes as the width various. This design was made as a using a continuous pattern, their is only 1 trim in the whole design, 1 color and about 7769 stitches. It was made to illustrate smooth running embroidery designs.

Both the embroidery designs illustrated were digitizing in Tajima DGML by Pulse software using the basic digitizing tools. The key to using these tools is to be able to Path your machine embroidery design ( PLAN IT ) Choose the right stitch that will create the element you want to make the image come to life.