Tajima Pulse experience: Working with Large Letters
---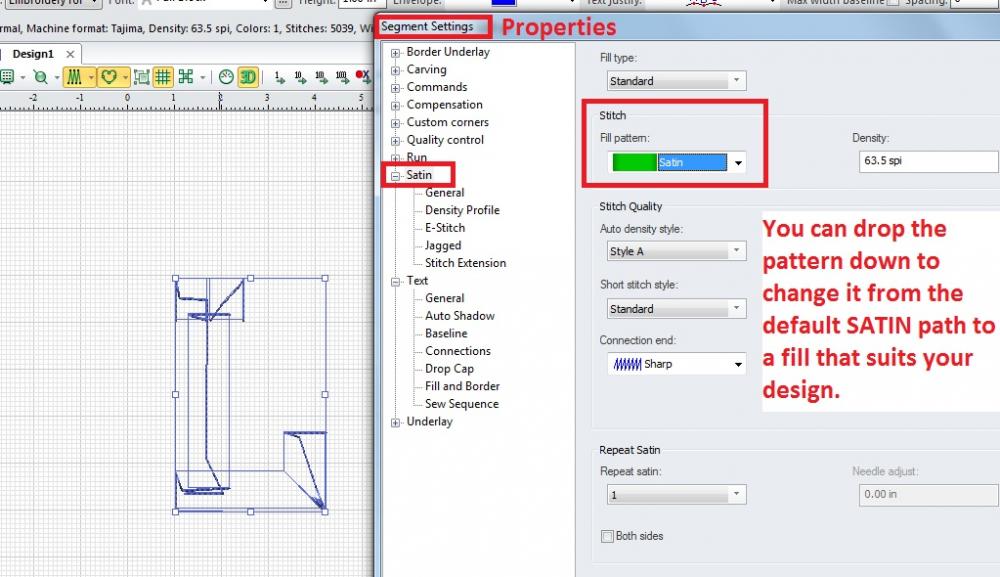 When working with embroidery designs you will come across some limitations on size of text, this is where some back ground information is very helpful. We will cover which Tajima Pulse Fonts have been digitized for larger sizes, how to make a standard letter larger and other options
When working with text its important to know the limitation of the satin stitch. The maximum stitch length for satin stitches is .50-.54 depending on your embroidery machine, however I recommend no more than .40 inch as it will be come loopy. You will have to watch the sample sew outs on similar fabric to judge how large you can go with your lettering. To give you a hint your software has a section called "FONT HELP" In their they list all of "Pulse Fonts" and they have information on which fonts can be used and how large you can make them.
Font Help
1. Open a new document
2. Go to help.. select fonts
Find the font called 2 Col Athletic 75-150 font and view the properties.
In the above image at the bottom right side of the screen it will show you the minimum and maximum size for this font. This font should work up to 5.9" in height without manipulation.
Here are some examples of standard large embroidery fonts in your embroidery digitizing software, there are more.
Two Color Block Min 0.98 inches/25 mm Max 2.56 inches/65 mm
Two Color Greek Min 0.98 inches/25 mm Max 2.05 inches/52 mm
Two Color Villanova Min 0.98 inches/25 mm Max 5.9 inches/150 mm
Western 2 Min 1 inch/25 mm Max 4.92 inches/125 mm
Well this is great but very limiting , what if you need a font such as Full Block which has a maximum height of 1.38 inches/35 mm , whether this is where knowing your digitizing software pays you back. Any font can be made to sew out large as long as you know what to do..
Put a letter L using the Full Block font on your screen make it about 5 inches high. You will see that alot of the stitches do not show up.. and if you measure the column with the ruler tool , the column width is .90 inch , (note sometimes the software will show it past the .50 inch ,you always need to know how wide the column is making sure its no large than .40 of inch, or it will have issues.)
Now we can adjust the letter so it can be sewn at this size
1. Right Click and go to the properties.

2. Find the Satin Tab.

3. Change the Satin Pattern to Pattern 1

When working with large letters you will need to make sure your underlay, density and compensation is set for the type of embroidery design, fills tend to have a lot of PUSH or PULL on your fabric, you will need a fair bit of underlay like a contour stitch and possibly a zig zag stitch which will also help with the density. Make sure you use med/heavy cutaway for this type of machine embroidery design.
For digitizers you can always digitize applique or make your own fonts.
Author: Frank Prokator