Digitizing Single Color Embroidery Designs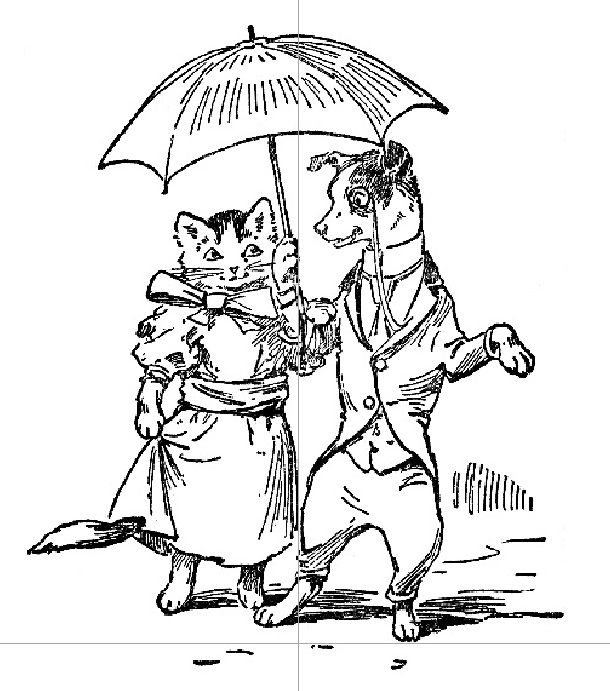 When learning to digitize half the battle is knowing how to use the tools and what tools to use to get a desired look. Whether you have a basic digitizing level or the highest level possible if you do not know how to use the different tools you are no further ahead. In this blog we look at using the basic tools, including the RUN tool, satin tool and fill tool.
I consider these the most simple of design as your only using one tool. When you get a grasp for this tool then you can start adding additional types of strokes ..
If you have a some punching tools usually you will have the most basic of stitch tools in Tajima Pulse they call it a RUN Stitch however its a basic stitch , you place the points and set the stitch length, If you can learn to punch embroidery designs with this you will be able to add more detail with fewer stitches, and if you get good at it you can make a whole embroidery design with no trims.
Here is a simple outline of a cat and dog dancing in the rain. You should be able to digitize this embroidery design with just the run tool. I would set the stitch length between .07 and .10 sometimes shorted on smaller detailed areas.
The run tool should produce a stitch similar to the one below , basically its gets tacked down by the bobbin embroidery thread at specified by the stitch length,.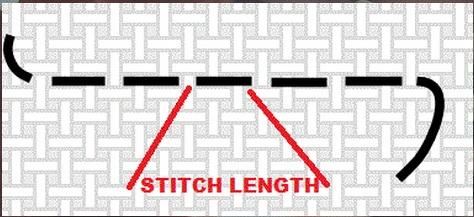 In the Tajima Pulse branded embroidery software you have another option on some levels it called a manual stitch this allows you to control the stitch length as it makes a stitch when you place each point, this is also known as stitch by stitch digitizing and is considered old school as you have control of each stitch.
When looking at the image shown above you need to start at a place and try to finish at another place, If your new to embroidery digitizing I recommend you get in the rabbit of punching from the bottom up, and out from the center, its usually not a problem for left chest design but caps require it to reduce the push of the embroidery design. If you do it on most of your embroidery design it won't seem like a problem when you punch designs for caps and jacket backs.
You will see a graph on the image 1 this is how I mark my designs to give me reference lines. Some people can eye ball it with out the lines.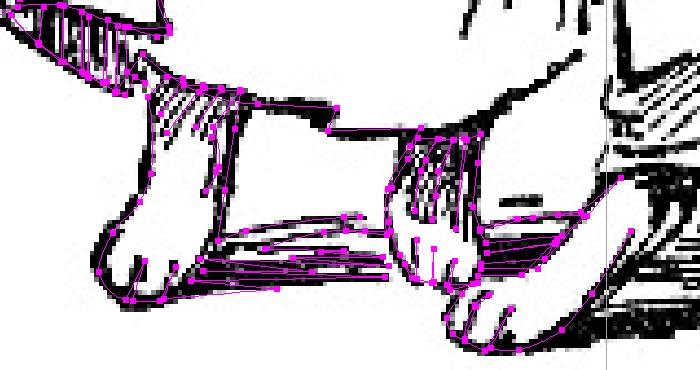 Above in image 3 you will see where I have placed my points there is no set way you have to draw it the only thing you have to try to do is to keep the stitch length above .02 inch going smaller sometime will automatically get truncated by the software, Here is what the embroidery stitches look like zoomed in and out images 4 and 5.

The smaller the stitch length the sharper the corners and the more detail however it also increase the number of stitches in the design, so generally its a balancing act, Some times you may need to retrace your steps , in order to minimize trims.
Take your time, map it out if you can ,and omit any detail that is too small to reproduce, you may also need to place more gaps in between the stitches than what you would need if you were printing this. I recommend at least 1 to 1 1/2 stitch widths.
Halfway point of the design Image 6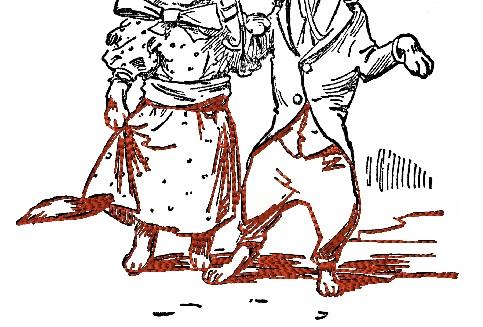 When your down punching the design Image 7
Now you should be able to compare image 1 and image 7 before and after to see if you like the amount of detail that you have added. Now you can take this design and if you want add some satin or fills to it. Image 8
Or you can go 1 step further and make it a full color designs or leave it at a one color design.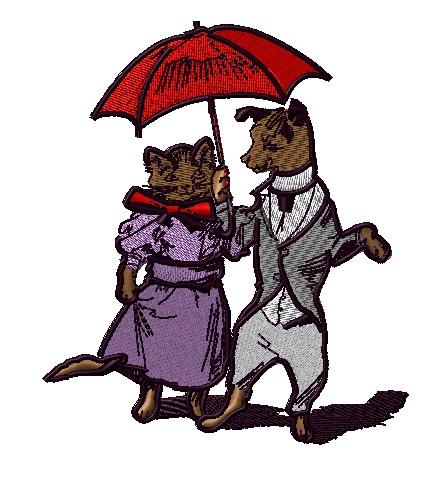 If you sew out the outline version no fills, you only need to add underlay to the satin style of stitches, if you add the fills in you will need to add a contour stitch to the fills and a lattice to and add some compensation to the fills and satin stitches, the run style stitches or programmed runs do not need any underlay or compensation.
Author: Frank Prokator
1

1