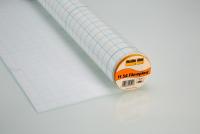 Filmoplast is a stabilizer for machine embroidery that has an adhesive layer. Its main purpose is to reduce the time spent on hooping, to enable you to embroider small details and to embroider designs on dense unhoopable fabrics. Used as a backing, Filmoplast prevents the fabric from puckering. It is of a tearaway variety, and is removed once the embroidery is completed.
Filmoplast is a TM of Neschen company. It comes in ribbons for mending books. Gunold, the company that brought it into machine embroidery, issues it in two colors (black an white), in rolls or precut sheets, of one weight (1.6 oz, Filmoplast 140). (Note: it used to be 80, 120 and 140; the first two are no longer in production).
Filmoplast usage

Filmoplast is used as a backing whenever it is not possible to hoop the fabric. For example, when the item is too small (a pocket, a collar, a cuff, etc.), or the fabric is too dense that it makes it unhoopable, the garment is of a specific shape (caps, in the absence of the cap frame), cloth caps, hats.
Or, it not recommended to hoop the fabric in order not to damage it. Velvet, some knits, thin leather can be cited as an example.
Filmoplast is a perfect substitute for the "tearaway stabilizer + temporary spray adhesive" combo.  It is also used for speeding up the embroidery process when it is necessary to embroider a large number of single-type designs. In cases like that, you hoop Filmoplast, cut the rectangle the size of the design and stick the garments or their parts to it one after the other.
Storing Filmoplast
Filmoplast does not require special storage conditions. It simply should not be crinkled. It is better to store it in rolls or in sheets precut for the specified size. Do not leave Filmoplast on the windowsill where the sun can reach it: that may damage the adhesive layer. Do not buy Filmoplast enough to last you through the whole life, because the adhesive layer is not imperishable. It only has 2 years of shelf life.
Edited by diver361
1

2