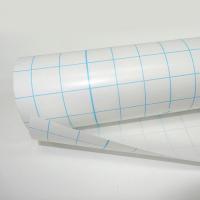 Using high-quality stabilizers is key to making high-quality machine embroidery designs with a variety of stitches, appliqué and other sewing techniques.
Because fabrics tend to stretch during sewing or embroidery, a stabilizer is placed under the fabric.
There are several types of stabilizing materials:
Tearaway stabilizer, made of fibers that tear easily. Use it when embroidering on woven fabrics. On completion, tear the stabilizer away. Small leftover bits on the wrong side of the embroidery won't get in the way.
Water-soluble stabilizer – looks like a film but dissolves in water. Place it on top of the fabric to be embroidered.
Tear-resistant cutaway stabilizer. This one is ideal for the designs with large stitch count and density, multipart embroidery appliqué, as well as logos and inscriptions. On completion, trim the extra bits.
The adhesive stabilizer is used when it's impossible to hoop the embroidery or the hoop will leave traces (velour, for instance).
FILMOPLAST® – a multi-purpose non-woven material.
The most convenient stabilizer to use: embroider without hooping. So, no traces on a delicate fabric. It has a sticky side and provides good support for open-mesh and knitwear fabrics, while also enhancing the look of the embroidery. It is perfect for embroidering small parts of the item which are impossible to hoop. Also, you can embroider baseball caps without a cap frame – simply stick them to FILMOPLAST® and push the start button.
 
1