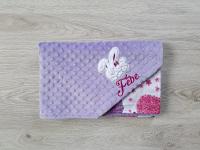 Applique as an embroidery technique
Patchwork, or applique, is a way of creating a machine embroidery design by attaching pieces of material to the fabric with the help of various types of stitches. Applique covers a whole range of areas, from the rather laconic folk art and ornaments for kids to complex models, full of artistic value. Methods of creation of an applique depend on your machine's capabilities and the structure of the design. 
Applique goes back a long time. Perhaps, the first step toward the new technique was made by a man sewing a few skins together in order to make clothes, who looked at the stitches and realized they could be used for decoration. He attached the small pieces onto the big ones, and thus the applique was born.
It is commonly believed that this technique came to Europe from Asia via the Silk Road.
There are 10 kinds of applique in machine embroidery as yet, and the creation process largely depends on the one you choose.
1. Joining applique is used for decoration, for dresses and blouses and also whenever you need to join together pieces of different fabrics. These fabrics should be of the same texture and color.  Make sure that the edges overlap so that they cover the entire embroidery design, plus 2 cm allowance on each side. Trace the design onto the applique fabric, and place it over the main fabric. Baste the two fabrics together, hoop with the design facing up and stitch the contours of the design twice. Trim the extra material around the seam, leaving 1 mm allowance. Finish the edges with a hemstitch or a satin stitch.
2.  Patched applique means the attachment of details consisting of one or several layers onto the fabric with the help of various types of stitches and supplementary materials (cord, ribbon, etc.). This type of applique creates the raised effect. The extra pieces of material can be trimmed in two ways, either manually or with a laser, according to the preexisting pattern. The edges of the applique fabric can also be finished in two different ways: either covered with various stitches (traditional applique) or left as it is (raw edge/ragged edge applique).
3. Backing applique – the simplest kind of appliqué, also called the put-under applique. It is used with thin transparent fabrics for holiday clothes decoration. Thin silk threads (No 65) should be used for this kind of embroidery. Baste the backing material to the underside of the fabric with the design traced upon it. The backing piece should be bigger than the design, leaving at least 1.5 cm on all sides.
4. Openwork/reverse applique. Several layers of applique fabric are placed underneath the main fabric and the whole thing is stitched together. The main fabric is cut, and the edges are finished with satin columns or zigzags, or any kinds of stitches used in appliqué. 
5. 3D applique uses additional objects (embroidered or not) that are sewn onto the main fabric, but only partly, in order to create volume.
6. Quilt is a kind of appliqué where no less than 3 layers of fabric are used. A three-dimensional motif is created on the surface, thus giving it volume.
7. Padded applique Padded appliqué is an ordinary kind of appliqué with a special material under the appliqué fabric called padding. Puffy, polyester batting, foam rubber, and other materials can be used for padding.
8. Double-sided applique, where the appliqué fabric is placed on both front and back sides of the main fabric.
9. Stained glass/Celtic applique, where pieces of fabrics are joined butt-to-butt and the joint place is covered with a satin stitch border. You get something that resembles a mosaic panel.
10.  There are two purposes of using appliqué under the low-density fills.
1. To get a tincture. Lower the fill density by 30-40% and put a fabric of a different color underneath to create an effect. For example, a blue applique covered with a yellow fill will appear green.
2. To save stitches.  In this case, the applique and the threads used for the filling should be of the same color.
Appliqué covers a whole range of areas,
Clothing decoration and alteration (especially, kids' clothing)
clothing repair (you can cover wear and tear with patches of various shapes)
creation of one-of-a-kind garments (by using your own imagination and skills)
making the embroidery softer (a garment with an appliqué is softer than the one covered with machine embroidery)
saving stitches on big-size objects
Before embarking on such a project, you'll need to choose an applique fabric. There are several rules you need to follow:
Better not to combine light-colored single-tone fabrics with vibrant ones, for the sheer reason that lighter parts will get smudged during washing as well as steaming;
Fabric structure should be similar;
Combining steaming-friendly fabrics with the ones that don't respond well to steaming is not preferable;
When in doubt, try dousing a piece of fabric in water and drying it with a steamer – if it has not warped, if its shape hasn't changed, the fabric will most probably suit you just fine;
Bear in mind that the grain line of the applique fabric should be consistent with the one in the fabric, onto which you are sewing it.
Working with applique will require a wide selection of threads. This is due to the fact that every piece of appliqué should have a matching thread color (or a contrasting one). Sometimes you'll need to choose a thread of a lighter or a darker tone in order to create a shade. The essential point is to remember that the upper and the lower threads should match in thickness, thus enabling your machine to not overload. 
Various kinds of threads can be used (silk ones and metallics), the main thing is to choose them appropriately.
Some general tips on fabrics: 
Jersey is a thin and compliant knitwear fabric that doesn't fray. Very rarely used in appliqué, it is positively unsuitable as a backing.
Denims are excellent for the backing. They hold the line of stitches in place and stick to the main fabric without slipping.
Thin drape cloth is also good for the backing, provided that it is not ribbed. You can choose any kind of main fabric, including the narrow mesh.
Dense satins are very good for the backing, too. Satins are slippery, and thus require a dense main fabric (ticking or two-thread). Try to avoid excessive needle and pin penetration – that will leave holes in it. Do not go overboard with the steaming, or the fabric will lose part of its sheen, and its muslin foundation will become visible.
Velvet is good for patchwork but very demanding. Better to patch it onto the thin interfacing material. If you own an old sewing machine model, you'll need to adjust it in a particular way. If possible, avoid steaming (the pile will sink, exposing the foundation, and the all the sheen will go away).
Coat canvas is a bit too coarse for the foundation material and comes in a limited number of colors, but this is a matter of preference.
Velour is perfect for an applique. It cuts well, doesn't fray or change its shape, and responds well to the needle.  
Rayon can only be used with the dense stabilizer.
Gabardine can be used as a backing if it is thin and has minimal ribbing.
Chamois with its nice clean edge is, too, used for patchwork. Dense chamois requires reducing the stitch count.
Crepe-de-chine is indispensable due to its color effects but should be stabilized.
Linen is ideal for the backing. Almost any appliqué will look good on such a natural-looking, unassuming background. Retains its smoothness when embroidered or decorated with rhinestones.
Polyester is an omni-purpose fabric, very durable and often pleasant to the eye. Thin polyester is an excellent backing material.
Basketweave is also very good for the background. It behaves well under the needle, doesn't crease much, and its density and thickness are just right.
Cotton is only used for the simplest household items (pot holders, napkins, tablecloths, heating pad covers).
Flannel behaves well without the stabilizer, but one should avoid sharp angles when cutting on the bias – the fabric begins to stretch.
Chiffon of all kinds and colors can be used in patchwork, though it should be strengthened with a dense white interfacing material. White is essential to make the colors stand out and cover the background. Chiffon is excellent when you need airiness and transparency, for example in the wings of a butterfly.
We wish you many exciting discoveries when working with applique!
Edited by diver361
1

1