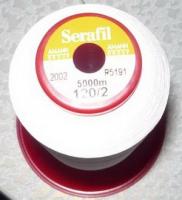 Original text by Marina Belova 
Today I'll tell you the main aspects of working with thin machine embroidery threads. 
As I don't have much experience in using such threads, I don't know all brands that can be currently bought in Moscow. I've encountered the following ones: Amann (Sarafil 120/2, which is the same as the more familiar #60), Madeira (Classic Rayon 60, Polyneon 60), Durak (Visco 60).

In my opinion, Amann threads are the most available of all. Their only disadvantage is their high price and also the fact that they are sold in 5000 m rolls. The rest of the threads are not easy to find. By the way, there are even thinner Serafil 200/2 threads (same as #75 ones), which are meant for even more delicate embroidery. 
Such threads are made for small (2–3 mm) lettering and very small details – they are ~50–60% thinner than standard #40 ones. But this does not mean that with them you can embroider anything. For example, 2–3 mm letters with serifs will hardly be neat and readable even when embroidered with these threads. 
One more important aspect – the color palette for #60 threads is much reduced compared to the standard #40s. 
Embroidery technicalities 
#60/8-65/9 needles are recommended. But, in my opinion, #60/8 needles are too thin for such threads. 
Tighten the upper thread tension. 
A thinner than usual lower thread should be winded up on a spool, like Amann Isa 180. 
Reduce the machine embroidery speed a bit. 
Use the ordinary stabilizer that corresponds to the type of fabric. 
Design creation: special features 
The density should be increased by ~25%. 0.35 mm is the density value for this type of threads Madeira recommends. But, as usual, you need to find the optimal density value by trial and error. 
You should avoid using these threads for the fills. It's better to embroider fills with an ordinary thread and all the small details – with the thin thread. Even if it leads to extra thread change and trims. 
Use only connector stitches between the letters; no tie-offs or trims. 
Edited by Irina
1