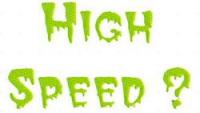 Original text by: Marina Belova 

When it comes to machine embroidery, every trifle has its significance, even such thing as embroidery speed. It is clear that we want to embroider faster, therefore we want to increase the speed. But before we do that we should remember what might happen on a very high speed:
The pull is greater than planned.
The push is greater than planned.
There are missing stitches in the beginning.
There are gaps between the contours.
Thread breakage is present.
The delicate fabrics are warped and ruined.
I'll say a few words about every one of these.
Everything is clear with the first two — the higher the speed is, the more visibly the machine pulls the thread, which effects the look of the embroidery.
The missing stitches occur when the machine begins embroidering and the thread 'escapes' from the needle's eye because the point of a hook cannot reach it. A situation like this is equal to the thread breakage, which, as our experience has shown, costs us a lot. Besides, it changes the look of the embroidery to the worse.
The gaps between the stitches occur mostly due to the increased pull.
One can easily understand why there are more thread breaks — the threads cannot withstand the strain on the high speeds. Besides, on higher speeds the needle deviates from its axis more, which, too, can lead to the thread breakage.
As for the warping and ruining of the fabric, my experience has shown me that the main reason for them is the same old pull.
In general, embroidery on high speeds causes great stress and nerve strain.
I've seen the recommendations to embroider on 550-650 rpm, which I consider questionable, considering what the modern equipment is capable of. But I will agree that the embroidery made on lower speeds looks a lot neater, and that the embroidery process itself is much less painful. Personally I like to embroider on 700 rpm. There is little thread breakage and the productivity is rather good. Though I've seen the results of the embroidery on 950 rpm. Not to speak of Amaya embroidery machines with their fantastic speeds.
Edited by diver361
1