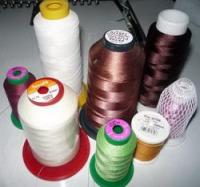 Original text by Marina Belova 
You can have anything regarding threads now: there is a huge variety of colors, fibers, thicknesses in machine embroidery. There are even threads that have special properties. They were created specifically to help you achieve all kinds of effects. 

You can divide them into different groups, depending on, say, fibers: 
Rayon (Viscose) — an artificial thread 
Polyester — a synthetic polymeric ester thread 
Threads with metallic polyester coating. Usually, they have a polyester or nylon thread inside. 
Flat tin threads 
Cotton threads 
Threads with special characteristics or outer look: 
Twist — a thread that is made of 2 or more colored fibers, twisted together. 
Acrylic (woolen) thread — a thick spun polyester thread 
Threads that glow in the dark 
Threads that change their color under in the sunlight
Non-flammable threads 
Multicolored threads — the ones that are of several colors simultaneously. 
Below I'll list the properties of the most popular kinds of threads. 
Rayon thread properties: 
Soft 
Shiny surface 
A great variety of shades and colors (multicolored threads included) 
No loops during the embroidery 
Easier to handle that polyester 
A great thickness range: from 12 to 60 
More sparing of the equipment, than polyester threads 
Washable 
May be dry-cleaned as well 
Polyester thread properties: 
An ordinary polyester thread has a brighter luster than a rayon one. But there is also a lusterless polyester called Frosted Matt from Madeira. 
More durable than rayon thread 
Can be whitewashed or subjected to other chemicals 
More elastic than a rayon thread. Therefore loops during the embroidery are possible. 
Polyester thread is cheaper than rayon 
Polyester distorts the embroidery more than rayon 
Metallic thread properties: 
Shiny surface 
Can have a textured surface 
Less flexible than polyester or rayon 
Not suitable for all kinds of fabrics 
May twist when coming off the spool 
Great thickness range: from 15 to 50 
Cannot be whitewashed 
Cotton thread properties: 
Lusterless surface 
Small color range 
Washable 
Cannot be whitewashed 
Great thickness range: from 30 to 120 
Clutters the shuttle because it's not as glossy as a synthetic or a man-made thread. 
Beside their structure, all kinds of threads have their own weight. #40 thread is considered standard. The greater the number is, the thinner will be the thread and vice versa. You can read more about it in my article on the embroidery threads labels. 
This is important: the threads of the same number but made of different fibers may have a different look. For example, a #40 polyester thread looks thinner than a rayon one of the same number. Cotton threads look even thicker than #40 rayon. Also, the thread thickness and weight may vary depending on the manufacturer, though they will be marked the in the same way. One needs to remember that thread thickness and type influence such stitch object property as density. You can see the general recommendations on working with the threads in the table in my article called Quality benchmarks. Understanding density. Also, you can find the table on the fabric/needle/thread ratio in my article on machine embroidery needles (coming soon). 
Not so long ago I read in my embroidery machine user guide that it's best to use a left twist thread in machine embroidery. Here is a way of finding out the direction in which your thread is twisted: 
1. Take your thread with both hands 
2. Twist the thread with your right hand toward you; your left hand should remain unmoved. 
3. See what happens with the thread. If it slackens, it is a right twist (or S-twist) thread. If it becomes tight, it is a left twist (or Z-twist) thread. 
I've never checked the thread twist. Moreover, I've never even thought that the direction of the twist was important, too. But if even a Chinese manufacturer mentions it in the user guide, then, perhaps, I should. 
Choosing the thread type is up to the embroiderer. Every embroiderer should try all types of thread and decide which ones work better for them. But, in any case, you should buy the high-quality threads. Because the cheap threads break often. This ruins the outer look of the embroidery and stretches production time (up to +50% of the time, according to my experience). 
Embroidery threads storage
It is better to store the threads in a cool and dark place with 40-60% humidity and about 20°C. Read what else you need for the threads storage here. 
P.S. Speaking from my experience, I will assert that there are practically no interchangeable threads nowadays. You cannot replace a standard #40 rayon thread with a polyester thread of the same number and vice versa without changing the design settings, even if they are of the same brand. These threads lie on the fabric in different ways, and the embroidery looks different. Therefore, they need to be approached individually when digitizing a design, especially if the embroidery is rich in contrast. 
Some people think that the embroidery threads should be oiled. I'll supply an article on the subject in the nearest future. 
Edited by Irina
1

1