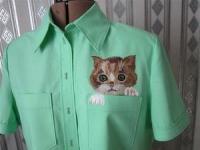 Original text by slavyankarusi
Free download design 
Today I want to share my first (and, hopefully, not the last) master-class with you
It's called "A kitten in your pocket" and was inspired by a Japanese embroiderer Hiroko Kubota. 

Of course, machine embroidery cannot entirely convey the charm of the hand embroidery, but I tried to create something similar, nevertheless, and you get to evaluate the result. I used Janome 126x110 mm embroidery frame. 
For this occasion, I cut out a blouse with patch pockets according to a shirt sewing pattern, out of cotton calico; you can also embroider this design on a ready blouse with patch pockets, but you need to rip the pocket off before the embroidery. 

The design consists of two parts that are printed. (Beside the stitch files, there 3 .jpg files in the folder: the first and the second parts of the embroidery and the entire kitten, with the enter line and center lines, full-size, for printing). 



On the placket the sewing line is drawn, the first part of the design is put on top of it; the lines on the pattern and on fabric should match together.



Center lines are marked with chalk, and the fabric is hooped in accordance with them. (On the wrong side is the adhesive tear-away stabilizer). 



Embroider the first part of the design, with the alignment crosses, unhoop the embroidery and sew on the pocket. 


Put the second part of the pattern on top (the paw that "lies" on the pocket) so that the alignment crosses superimpose. Join them with pins and adjust center lines. 


The crosses are embroidered first; they should exactly match with the ones embroidered previously. 

When embroidering the second part, I lowered the machine embroidery speed 400 SPM because of pocket's thickness. 
You be the judges of the result. I'm sure not a superpro, but I hope that you'll like the cat and also that someone will have a go at the embroidery, too. It would be splendid if you shared your results with us.  


Alternately, you can stick the design onto Filmoplast and embroider the paw separately, then sew on the pocket so that it can be opened. 
 
1

1