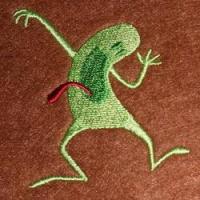 I think that felt is one of the most common fabrics for doing machine embroidery samples. It is also used for chevrons, appliques, and in any case, it is extremely popular nowadays. It is a non-woven material that resembles valenki by its outer look. Felt can be made of a variety of fibers, natural (wool) as well as synthetic (polyester). The thickness and color of this material also vary greatly, which is very handy.
I first came across this material quite a long a time ago and only then noticed that the embroidery looked different from that on any other kinds of fabric — all the elements became narrower. But that was when I didn't use any stabilizer, so the such a result was hardly surprising.
In reality, if you follow a production process and embroider on a stabilized fabric, felt is one of the easiest materials. You can embroider on it with no difficulty at all, and design creation for felt is also easy (it is used for samples for a reason).
You can embroider almost anything on felt — big and small details alike will look good on it. Like with any other fabric, digitizing a design for felt and embroidering on it has its undemanding rules:
For the ordinary designs, use a middle-weighttear-away stabilizer. For large objects with lots of stitches, a middle-weight cut-away will be just right. You can additionally sprinkle it with a temporary spray adhesive.
You'll need #75 needles, with sharp needlepoint. But if you're going to embroider small details with thin threads, you'd better change your needle for the one matching the thread (#65). When embroidering with thick threads, you should likewise choose a thick needle. But the needlepoint stays sharp in all cases.
Density values can remain standard, enough for sufficient coverage (0.4-0.45 mm).
Understitching is traditional and unpretentious.
Pull compensation is up to 10%.
Felt is a very easy embroidery material. The only thing I don't like about it much — it's quite thick and therefore hard to hoop. But the quality of the embroidery saves it all.

1