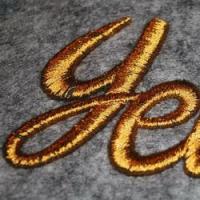 Original text by: Marina Belova  
Not very long ago I've noticed a pretty-looking design embroidered on 3D Puff with a metallic thread. And I thought I could do it, too – there is seemingly no difference between embroidery threads, right? After all, in standard embroidery cases the difference is minimal.
Nothing of the kind. See, how ugly the result is:

At the beginning the embroidery runs smooth, then there are stitches missing, then everything is smooth again. And the reason for these gaps is not that the stitches in different embroidery segments lie in opposing directions and there aren't much overlaps — each of the contours equals one segment, and therefore, all of them are unidirectional. I don't understand what is the problem: the brand or the thread itself? 
Do I need to change my needle (system, needlepoint, thickness etc.)?
Or do I need to change stitch parameters (density, carcass)?
Or, perhaps, I should change the filler (3D Puff)?
Those who have embroidered on
, help me, please! 
1