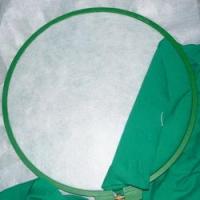 Original text by: Marina Belova 
I think that the subject of hooping deserves to be expanded once again. Today we'll look into such an important aspect as testing of the quality of the hooping. This is necessary for avoiding such widespread troubles as pulling of the fabric, gaps between outlines, object shifting etc. 
In order to succeed you only need to check a few things after the hooping. They are quite self-evident, but sometimes some of these just go wrong: 
Turn the hoop the wrong side up and make sure that the stabilizer is evenly hooped and not lopsided, thus leaving the fabric without support.
You may avoid this by sticking the stabilizer onto the fabric. 

Also make sure that some part of an item was not accidentally hooped as well. 

Now turn the hoop the right side up and check if the fabric is taut. There are two ways of doing it: 
Checking if the surface of the fabric is even. 
If there are creases present, unhoop the whole thing, adjust the screw and do the hooping all over again. 

Try to lift the fabric with your fingers so that to separate it from the stabilizer. In other words, check if you can 'pinch' it.

 And if you can, tighten the hoop screw. 
Trace the fabric surface with your finger. There should be no air bubbles. If one appears, you should unhoop the fabric, tighten the hoop screw and hoop again. 

Now check whether the fabric has not slipped out of the hoop on either side. In order to do this try tugging it slightly. This often happens in case you use a square hoop instead of the round one, which tightly secures the fabric at the corners, yet has the gaps on the sides. If the fabric slips out, you should wrap the hoop in the soft cloth. Apply wrapping only to the sides and not the corners. Then rehoop once again after that. 
That seems to be all. I would also try to make sure that the fabric wasn't lopsided or that there was no deformation both vertically and across. But this is not always apparent to the eye, for textiles differ from each other. At the same time I would check if the fabric was hooped evenly, whether it had not shifted in relation to the grid, in order to embroider in the planned direction. 
Edited by Irina
1