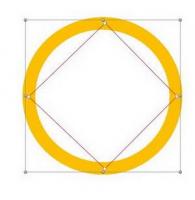 Original text by Marina Belova 
I've long been asking myself: why does every machine embroidery editor list a manual stitch among its types? When, where and how one should use it? In theory, this knowledge is the bedrock of machine embroidery design digitizing, but I, for some reason, am only familiar with the most general concepts. 
Come to think of it, if this type of stitch is omnipresent and not one manufacturer has discarded it, then there must be a reason for keeping it.
Then why are the clear instructions are so hard to find? 
A manual stitch is at first sight very similar to a running stitch. Where it differs it that when you digitize it, every click of a mouse creates a reference point, which is also a puncture point. There will be no other puncture points except these ones. Therefore, a digitizer gets complete control over the number of stitches. At the same time, when you digitize a running stitch, the software generates additional puncture points between the reference points. The number of these puncture points will depend on the set stitch length value and several other parameters like chord gap length, stitch length variations, etc., and on the software itself. 
In the picture below you can see a circle digitized in manual stitches: 

No matter how I try, I cannot create a circle in 5 clicks. But I can create a perfect circle in 5 clicks using a running stitch with 3 mm stitch length and controlling the reference point type: 

What purposes does the manual stitch serve in machine embroidery? 
You can use it to handle tie-offs manually, at the beginning of an object as well at its end. 
You can draw create a strengthening layer under the small letters. 
Or even digitize the very same letters with it. 
You can render the details that don't come out good in the automatic mode. 
Judging by these scarce findings, a manual stitch is the domain of the professionals. In order to successfully apply it, you need to have a hawk's eye and a vast experience, for you have to have a clear understanding of where exactly do you need a puncture point and why. After all, the editor does very little to participate in digitizing: every stitch is drawn by hand and does not automatically comply when you change the design size or aspect ratio. 
And for what purposes do you use this type of stitches? I myself do not use it at all. 
1