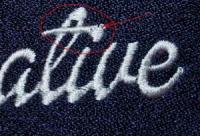 Original text by Marina Belova 
A few days ago I needed to embroider an abstract logo for a close-up. Naturally, the embroidery had to be of a sufficient quality so that I wouldn't be too ashamed of how the stitches looked when highly magnified. 
Here's what I noticed when scrutinizing the resulting look of my logo: the tie-offs visibly stood out in almost all of the satins. You may even say they detach themselves from the object and continue on their own life, distorting the object's edges and damaging the whole look. One simply can't fail to notice them, as the photo below illustrates: 


This is just an automatic tie-off inserted after the last stitch. I can only imagine how a butterfly or a star would have looked! Here, look at them: 

It's not that I didn't know that tie-offs tend to behave in that way. That I certainly knew. I also know ways of hiding them but each of those requires drawing every tie-off (a manual stitch between the satins) by hand. But as I am a rather lazy person and as I, to put it bluntly, don't have any time to deal with every tie-off separately, I thought that moving a tie-off 1 or 2 stitches inside the object and farther from its edge (and from the last stitch as well) would, perhaps, be enough. Something like that: 

The tie-off stitches are marked red here: 
Of course, I do a test piece hoping that it will come all right. 

Alas – no such luck, my little trick doesn't save the situation, although it improves it a bit. 

All of this because the tie-offs flatten the last stitch, so to speak, and stand out for that reason. The embroidery looks fine from a distant but doesn't stand up to scrutiny in a close-up. And besides, this "little" problem occurs every time I embroider letters, causing a lot of trouble. 
These inoffensive squares result from inserting the tie-offs manually at the end of the satins just as John Deere had suggested. This is particularly true for the long satins. 



 
Conclusion: if you don't get too lazy, dedicate more time to you project to do some manual work and don't rely on the automatic functions offered by modern embroidery software, the result will be more pleasant to the eye. What's more, a tie-off inserted in this way will not only look good on the edge of an object but also in the center. Though I need to say that I've only seen 2 digitizers who insert their tie-offs by hand and don't use the embroidery editor capabilities. 
And what about you? In what way do you hide your tie-offs so that they don't spoil the outer look of the satins? Do you, perhaps, play with the settings, such as a tie-off stitch length and the number of runs? Or does your embroidery editor automatically insert the tie-offs in a neater way?