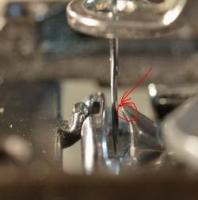 Original text by Marina Belova 
This is another one of the educational articles on the subject of embroidery machine maintenance and solving minor problems without the help of a service engineer. 
Does your underthread break often? I've only had some isolated cases. Consequently, I didn't gather any data on the subject and I never knew the reason for a situation like that. 
But it turns out that if this happens you should do some checking. According to the official recommendations of the tech service you need to do as follows: 
Apparently, you should check whether: 
The bobbin thread is not old 
The bobbin thread is of poor quality 
And if so, then, of course, you need to replace them. How do you personally rank bobbin threads? Which ones do you use? I've tried many different kinds, and now it's clear to me which ones are good (bad) and which ones are cost-efficient or not. 
You should also check if any of the units that touch the underthread does not work properly. 
Whether the thread has been inserted into the bobbin case in the right way. In case any of you is unfamiliar with the subject, you can read about it here. 
Whether the bobbin case tension is too high. I touched the subject slightly it in my article on the thread tension adjustment. But it appears that some information about the Drop test there was not entirely true because I've just seen another, slightly different version of that same test. 
Whether the thread had been properly wound: not too loose or lopsided etc. For example, if you wind up too much thread as it often happens on my Velles 15, the bobbin gets stuck inside the case and loses the ability to spin. 
There may also be less obvious things that should be checked as well: 
Scratches in the throat plate opening. 
Scratches on the bobbin case tension spring. 
Whether the bobbin case is round in shape at all. Click to read how the case being not round can influence the embroidery what are the ways of checking it. 
I'll also add — not from my own experience, but out of the variety of sources which I've studied thoroughly when delving on the topic: 
Check the point of a hook for scratches and polish it, if that's the case: 

Also check the retainer (also called hook support, finger) — whether it is not scratched. I'll write about the retainer some time: 

I hope that there will be people that will find this article of any help. 
1