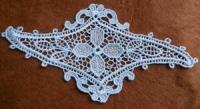 Original text by Marina Belova 
A jigsaw puzzle called "machine embroidery" is gradually building in my mind. Now I've reached the highly interesting free-standing embroidery piece. Free-standing embroidery is not always lace – that much has stuck in my head. 
There are several kinds of free-standing embroidery: 
Free-standing lace, beloved of all, embroidered on a water-soluble or a heat-away stabilizer. 
Ready-made pieces embroidered on transparent fabrics. 
Ready-made pieces embroidered on non-transparent fabrics. 
I would also put into a separate category the so-called in-the-hoop pieces that are embroidered and sewn completely in the hoop and the ready item can be rather complex as a result. These are, to all intents and purposes, free-standing embroidery. 
The key feature that distinguishes them from other embroidery projects no matter how they were made is that these are the end products. Not only two-dimensional laces, various pendants, and decorations but also manifold 3D items, such as baskets, vases, bells, flowers, trees, etc., fall into this category. To put it shortly, anything you can think of. 
In our first case, the FSL embroidery should be sequenced in a particular way – all the elements in the design should have a shared underlay so it will not disintegrate after the stabilizer has been removed. What you can use as a backing: 
For the big projects with a large number of stitches – a water-soluble stabilizer. 
Dense water soluble film 
Heat-away film 
Heat-away fabric, like Gunold Thermogaze, for instance. 
Here you can read about my attempts of creating FSL on three of those materials. In the photo below is an FSL lozenge that I digitized myself the other day. It took me a great deal of time and effort but in the end gave me an insight into how this kind of lace is created. But I see that I still have a lot to work on: 

Everything here needs polishing, and besides, I should adjust the thread tension on my machine. The embroidery looks splendid before removing the stabilizer and after it – like in the photo above. 
Synthetic fabrics that can be successfully singed (one layer of polyester organza, for instance) are commonly used for the free-standing embroidery on a semi-transparent base. A satin border should run along the perimeter that will hold the embroidery in place and prevent it from slipping but you may try and do without it. Just pay attention to the stitch direction near the edges of the embroidery – the stitches should be perpendicular or almost perpendicular to the edge. After the embroidery is completed, organza or other material is trimmed along the perimeter of the design and the leftovers are burned in a variety of ways. On organza, you can embroider designs completely filled with stitches and do openwork as well. There are plenty of examples, beginning with the simplest 3D flowers that are supposed to be used as brooches. 
The free-standing designs of the third type are created on dense non-transparent fabrics. You can choose any one that you like but felt is by far the most popular. Such items are embroidered and then cut out of the fabric perimeter-wise. I'll name, perhaps the most popular free-standing embroidery of that kind – various chevrons (emblems). But there is also a wide range of decorations, such as flowers and butterflies that are sewn on or glued to something. 
As for the in-the-hoop projects, I've expanded on the topic more than once. So many things can be created all in the embroidery hoop! There is no limit to the imagination: decorations, bags, all kinds of accessories, etc. Not only fabrics but also ribbons, zippers, and other things can be used. Free-standing designs are digitized in a special way and the whole creation process is often a big adventure. 
That's pretty much all that can be covered in such a short article on a broad subject. 
1

2