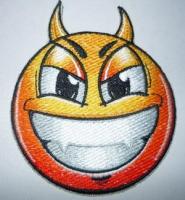 Original text by Marina Belova 
Today I decided to elaborate on the making process of a completely stitched chevron. To learn about the types of chevrons, click here. I once read that chevrons of this type are the easiest to embroider. 
The method itself is good because is allows one to create a chevron of any shape. 
After three unsuccessful attempts and modifications to the design I got this (see the photo below): 


This is my first chevron. I've never digitized and embroidered chevrons before. I simply followed the rules listed below and kept an eye on the embroidery process in order to see what needs to be corrected. 
Digitizing seems quite easy at first: 
Create a first strengthening layer – a running stitch along the perimeter. 
Create the second strengthening layer – a full grid at 45 and 135°. 
Create a background for your chevron. This is usually a Tatami fill. 
Create everything that will be visible against the background: letters, logo, emblems, etc. 
Create a finishing border. The latter is usually made with satins no less than 2-3 mm wide. But there can be variations that have embellishments or are of a different width. 
Naturally, this type of embroidered patches is not compatible with any kind of design. You can't use designs with separate elements. The main secret of digitizing chevrons of that kind is to plan the embroidery sequence in such a way that all the elements are interlinked, otherwise, the embroidery will fall apart. This is usually achieved with the right kind of underlay, with the stitches arranged in a criss-cross manner. 
The technique is not overly complicated: 
1. Hoop or frame one of these stabilizers: 
2–3 layers of a dense 100 m2 tear-away 
2–3 layers of a thick (80 microns) water-soluble film 
2–3 layers of a heat-away 100 microns film 
2. Embroider the design. 
3. Detach the chevron from the stabilizer. 
In case you used the tear-away one, you should singe the edges in order to prevent fraying. 
Water-soluble film leftovers can be removed with a damp cloth. 
As for a heat-away stabilizer, you can get rid of it by using an iron or a press. 
4. The final step is to put glue on the wrong side of the chevron that will attach it to the garment. 
Gunold offers a special BSN thermofoil for that. This foil can be of 2 types: The 1st is meant for commercial use, it is glued to the garment with an ironing press, and the 2nd can be glued with an ordinary iron. 
This is all, in a nutshell. 
P.S. Not so long ago I've read that it's possible to embroider chevrons of this type on polyester organza with a layer of a tear-away stabilizer. Would be interesting to try that. 
1