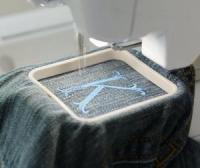 Original text by Irina Lisitsa 
To succeed in machine embroidery business, it is necessary to have a narrow arm extension that will allow you to embroider virtually any area of an item. Home sewing and embroidery machine lack this advantage and also lack a set of small frames. Brother VR embroidery machine is a unique piece of equipment that has the functionality of both home and industrial embroidery machines. 
A narrow arm extension, a set of small embroidery frames developed specifically for the embroidery in hard to reach areas – here you find all of that, combined. 

Embroidery in hard to reach areas: what is it? 
To begin with, what are hard to reach areas and why machine embroidery in them has its unique features? Look at the picture below. The areas marked red are hard to embroider on a machine with a wide arm extension. If you compare the upper and the lower parts of the image, it'll become obvious that Brother VR allows you to position a design anywhere on an item. 

Embroidery in hard to reach areas: how to? 
Trousers are one classic example of a tough-to-embroider item. Cylindrical shape of a trouser leg prevents you from positioning it on a platform of a horizontal shuttle embroidery machine. Unseaming is an option, but what if you have no desire of doing so or your client objects?
Cylindrical shape of the Brother VR embroidery machine platform allows you to hoop the trouser leg without opening the side seams. Hooping becomes much easier if you attach a stabilizer, hoop the trouser leg and slip it on a narrow arm frame. 

You can embroider almost any area of an item on a cylindrical frame. 
With Brother VR, you'll be able to embroider the upper part of a sleeve in blouses and shirts, which is why you need a small frame. The machine is equipped with a wide selection of frames that are suitable for the variety of tasks. For the embroidery on pockets, use a flat frame of a corresponding size, this will allow you to avoid ripping the finishing line and to keep the factory-made seams. 

Brother VR embroidery machine: embroidery in hard to reach areas made easy! 
Edited by Irina
1