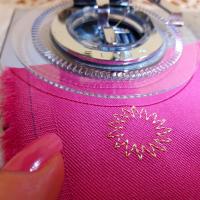 Circular embroidery attachment
Being an owner of a wonderful Brother Innov-is 950 sewing and embroidery machine, I constantly seek to add functionality to it. I'm able to do it with various accessories and attachments. Today, I want to tell you about a circular embroidery attachment which is not listed among the Brother machines accessories. I bought it on a trial basis, without being sure whether it is compatible or not. Now I am able to state with confidence that it is indeed compatible not only with my machine but also the whole number of other models.

Circular embroidery attachment. Materials
Dense fabric
Circular embroidery attachment
Sewing threads
Scissors
Embroidery or sewing and embroidery machine

Circular embroidery attachment. How to install and sew
I covered all the key aspects in my video. I want to additionally stress several, in my opinion, important points:
During the attachment installation, the long lever should hover over the screw that holds the needle in place. Only in that position the attachment will move in the proper way, forming a circular pattern.

 The upper thread should be above the attachment prior to the beginning of the embroidery. Make sure that is doesn't get underneath. The lower side of the attachment is covered with a thick non-slippery material that allows moving the fabric in the right direction. If the thread gets under the attachment, the fabric will shift, and the embroidery will come out warped.

  If you're going to use thin fabric, make sure to strengthen it with a machine embroidery stabilizer prior to the embroidery. A tearaway adhesive works fine, as it is easy to remove after the work is done.

 You may choose from a multitude of decorative stitches (including zigzag) in your circular embroidery. Before starting on the real thing, do not forget to do a test sew first.

 Turn off the feed dog before starting the embroidery. The attachment itself will feed the fabric.
With its help, you will be able to embroider circular designs of three different sizes: large, medium-sized and small. To change the size, you'll need to loosen the screw, move the attachment to the "plus" or "minus" side and tighten the screw again.

Double needles, too, may be used for circular embroidery.
The attachment is also compatible with such Brother machines as: Boutique 27, Comfort 10, Comfort 15, Comfort 25, Comfort 25A, Comfort 35A, LS2125, LS3125, Prestige 100, Prestige 200, Prestige 300, Prestige 50, Universal 17, Universal 25, Universal 27S, Universal 37S, XL-2130, XL-2140, XL-2240, XL-2250, XL-2600, XL-3500, XL-2120, XL-2220, XL-2230, XL-5050, XL-5060, XL-5070, XL-5500, XL-5600, XL-5700.
Original text by Mary Stratan
1