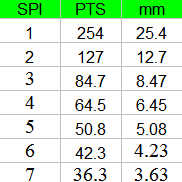 Original text by: Marina Belova 
The subject that has always interested me is why digitizing software developers measure stitch density each in their own fashion. When changing a design editor, you never really know how the density will be measured this time. 
For example, I've encountered such density measurements units: 
SPI — the number of stitches per inch 
The number of stitches per millimeter or centimeter 
pts (pt, EP, Points) — the distance between stitches is determined by the number of the minimal movements of a Pantograf (10 pts = 1 mm). The more points are there, the lesser is the density. 
mm — the distance between the stitches in millimeters. 
Every time I had trouble grasping what are all these pts and SPI and converting them into millimeters I was used to, in order to understand, how many stitches were there. Here is a table I found in the Embroidery Network showing how the units of different density measurement systems correspond to each other. Sometimes you read an article somewhere on the internet and don't understand what's it all about and what figures the author used. 

But trying to convert from stitches per mm (like in Stitch Era, for example) into ordinary mm will lead you in a pretty dance. The only ratio I've found is as follows: 5,1 stitches per 1 mm equals to density of 0.4 mm. Obviously, I'll have to calculate the values myself using proportions and go from there. 
 
Edited by Irina
1