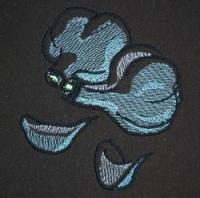 Original text by: Marina Belova 
I prefer a density of 0.45 mm, which is splendid for knitwear with a right kind of understitching. It doesn't always work, I must say, but it usually does. I have previously written that you should lower the stitch density when embroidering on knitwear, but during the last few months I used to be firmly convinced that the high-quality machine embroidery on knitwear (ordinary t-shirts, quilt) was possible only on the condition of having high density about 0,3 mm with an understitching. Such a high density conceals a lot of digitizing imperfections, which is very convenient, but it increases the number of stitches. Which is what you sometimes want to avoid. 
I was browsing through a selection of clippings from the Printwear magazines, and came across several interesting photos depicting a very good-looking embroidery on knitwear. The reason these photos seemed so interesting to me was because the making of the design was approached in a very original and creative way — low stitch density both in satin columns and fills, a large number of stitches, simple appliqués with ragged edges and trapunto imitation to add volume. But then, on consideration, it is not all that special, because all of this has been known for a long time, though I, for some reason, did not use it: 

The photo was taken from the Printwear magazine, July 2013 

The photo was taken from the Printwear magazine, July 2013 
As it usually turns out, you need to look at the other's works from time to time. 
So I, too, decided to give it a try and to see the advantages and disadvantages of saving a great number of stitches, having remembered that
I've previously seen simple designs for knitwear in Urban Threads more than once. All their showcase photos were more that decent. 
I must say that the use of low density did not disappoint me, even on pique.

Everything is smooth, no warp and bulge whatsoever. And how few stitches are there! 
Sometimes you really should depart from the rules and try something new. It helps to have a fresh approach. 
Edited by Irina
1