How to embroider on knitwear?
To create a high-quality and good-looking embroidery on knitwear we'll need:
Knitwear fabric of any composition. I have cut a new knitwear jacket and will do the embroidery on it.
Embroidery stabilizer. I recommend a tearaway STIFFY stabilizer (by Gunold) or COTTON SOFT (by Madeira). If you going to use a non-sticky stabilizer, add a layer KK 100, a temporary adhesive (by Gunold). In order to embroider on knitted fabric, it's better to use an adhesive stabilizer named FILMOPLAST (a stabilizer is hooped, and the fabric is glued to it).
AVALON FILM, a water-soluble stabilizer by Madeira.
Embroidery threads of the necessary color made of 100% rayon, in order for the embroidery to be soft (Madeira RAYON #40).
Bobbin thread for machine embroidery, same color as the fabric (AMMAN BELFIL-C #120).
Needles for knitwear (SCHMETZ Stretch), their number depending on the thickness of your fabric and threads.

Cut out a pattern, choose where to place the embroidery, and mark the place.


If you use a sticky stabilizer, glue it to the wrong side of the detail with an iron. If you use a non-sticky stabilizer, spray it with a temporary spray adhesive and attach it to the knitwear detail. A piece of stabilizer should be 3-5 cm bigger then the hoop you're going to use, so as to secure the fabric and the stabilizer.
In order to get a high-quality embroidery, cover the right side of the fabric with a piece of water-soluble material and secure it in the hoop.
Start your machine and run the embroidery.


After it has finished stitching, carefully remove the excess stabilizer: both water-soluble and tearaway. Holding the embroidery with one hand, remove the Avalon. Turn it to the other side, and tear away the other stabilizer. Stabilizers come off easily as a rule because the needle cuts them along the edges.


What's left under the stitches will be washed out during the first laundry.
See how easily you've made a one-of-kind T-shirt!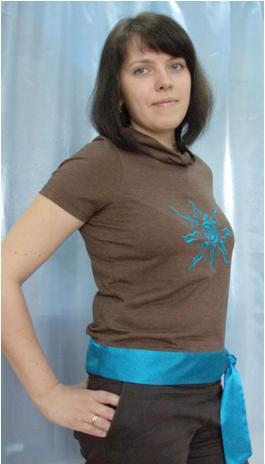 Original text by Irina Yemelyanova
Edited by Irina
2