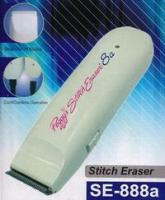 Original text by: Marina Belova 
I've come across a series of magazine articles on how to correct errors which are inevitable when you embroider something. It said many things, but it was the process of removing a bad quality embroidery designs from the item that intrigued me the most.
I've been through removing the ready embroidery more that once and it has always been a problem. The first time when I encountered such a thing and what did it eventually cost me instantly sprang to my mind. After all, I did not have any instruments except scissors and tweezers back then. And I had to remove a large coat of arms from the velvet fabric. And every time when I needed to remove the embroidery design, I remembered of the specials instruments that can be bought online, and cursed everyone and their brother.
Actually, a professional instrument for operations like this is called Peggy's Stitch Eraser, and I remember every time that I haven't yet bought it.
It rather reminds me of a hair clipper. The price is about 80 USD, which is not too much, and I hope to buy this magical device in the nearest future.
The only thing you should need beside it are additional blades.
The aforementioned device looks like that (the image was taken from the site of the manufacturer):

But even if you don't have such a instrument, there should be a way of removing a bad embroidery. So I searched for an alternative for the lacking device and it turned out that situation is not that bad, and you just need to choose the best option:
You can use a plain ripper.
You can use a modeler's knife, like the X-Acto Knife, for example. But this is a matter of preferences.
You can use an ordinary razor blade.
You can use even a disposable razor, to shave off the threads on the wrong side.
The sequence will be the same, whichever instrument you choose:
1. Turn the item the wrong side up.
2. In any case don't remover the stabilizer. It will protect the fabric from possible damage caused by the instrument.
3. Place it on something like a darner (like the one there was once in every home, remember?).
4. Cut off the threads on the wrong side.
5. Remove the threads from the right side using tweezers.
6. In any case, this process requires a great deal of carefulness so as no to get anything wrong.
3