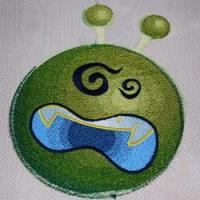 Original text by Marina Belova 
I've long wanted to create an embroidered pad for a hot tea bowl using an old CD as a basis. Now, at last, I've made it, utilizing the double-sided applique technique. The right side of the pad is full of stitches, like an expensive fully stitched chevron. 

The back side is applique. I would need something inside to hold my CD in place. I used a leftover piece of the first available sole-colored fabric — the two-thread — though now I think that I should have used a more lively color. 

The thing is very easy in making — all you need to do is to define the size of your design, making the allowance for the embroidery to envelop the CD. This is necessary for the CD not to get into the finishing stitch border. The rest is the same as in ordinary double-sided applique. 
So, the CD is 12 cm in diameter. And the alien face is 13,3 cm in diameter. Below is the preview of the machine embroidery design for this pad: 

I decided to use two layers of organza for the embroidery, which I hooped together with a perforated stabilizer that tears easily: 

I have prepared an old CD for the filling: 

Then I have almost the entire design embroidered: 

After that, I take the hoop off the machine, turn it the wrong side up, pick up the CD and stick it there with an ordinary glue pencil, trying to center it on the embroidery: 

I stick the fabric for the back side of my applique on top of it: 

Then I carefully insert the hoop back into the machine so that to not shift anything on the wrong side and stitch a zig-zag stitch to secure this "layer-cake". This is how is looks on the wrong side, after I've taken the hoop off the machine again: 

Now only a few things are left — to trim the extra fabric along the zig-zag stitch: 

And tear away the stabilizer: 

Then I change the color of bobbin thread from ordinary white to the one that matches my future border: 

I put the hoop back into the machine and finish my embroidery: 

This is practically all. After that I trimmed the organza along the edges and singed the leftover fibers with a lighter. 
Of course, there were several mistakes in my design and during the embroidery process, but they were easily corrected on the fly, and the result is sufficiently good, considering that this is my first try. But I would do the following: 
I'd increase the width of the decorative border. This is necessary for avoiding any problems with trimming of the fabric used for the applique or tearing away of the stabilizer so that the item would look neat and beautiful. 
I'd also use another, more durable stabilizer. 
And I'd choose better colors if I had such a possibility now. 
1

1