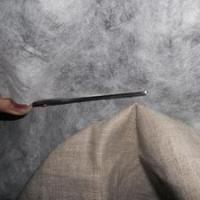 Original text by: Marina Belova 
Every one of us has encountered a dense tearaway or a cutaway stabilizer, which does not tear easily. But nevertheless we need to remove it from the wrong side, in order for the item to look neat. And no matter how you slice it, it is the part of the machine embroidery routine, so you have to do it anyway. 
Methods of removing the stabilizer include either simply tearing the it away or trimming it along the perimeter of the embroidery; which way to choose, depends on the type of the stabilizer used. Here are the most common mistakes: 
Distortion of the ready embroidery, which is the result of pulling the stabilizer too much in order to tear it away as quickly as possible. 
Cutting the stabilizer in such a way that it leads to a «small» inconvenience of cutting the fabric with it.
I've been there, and I know how disastrous it is. 
To cut a long story short, even simple actions like that will tolerate no haste or shoddy work. 
To avoid distortion of the design when tearing away the stabilizer, one should hold the embroidery close to the tearaway line. If you have used several layers of stabilizer, tear them away layer after layer. 
As for trimming the stabilizer you should just follow these steps: 
Use scissors with short sharp blades and round edges order not to catch the fabric. 
When cutting hold not to the fabric, but to the stabilizer instead, so that the fabric (item) is hanging down from it. 

Always have the fabric in sight so that you could be sure the scissors are not cutting it. 
Remove the stabilizer by gliding the scissors through it, moving them along the perimeter of the embroidery, about 3-5 mm from the edges. 
In order for the item not to fall on the floor and get dirty, trim you stabilizer above the table. 
That's it all.
Edited by Irina
1