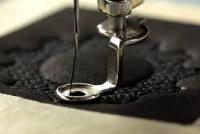 For a home embroidery machine and embroidery designs, it is recommended to use special machine embroidery needles and also needles for metallics. The needle number should correspond to the thickness of the fabric on which you embroider, i.e. the thinner the fabric, the smaller the number.
Always use needles for metallics when embroidering with metallic threads. Due to these needles having a slightly bigger eye and, the metallic thread doesn't grate against them so much, thus reducing the risk of notch appearance, which in turn leads to looping or thread breakage. Better to run the machine at a low speed when embroidering with metallics.
Needles by a German company named Schmetz are well-known.



For knits, one is allowed to use needles for jersey and stretchable fabrics.
Needles with wings, or winged needles, are used for the openwork-like embroidery. Wings make the microscopic cuts in the fabric. Not all of home embroidery machines are suitable for this embroidery technique.
 Titanium-coated machine embroidery needles deserve a special mention. Thanks to the highly durable coating, the service life of these needles exceeds the service life of the ordinary ones by several times, and the risk of breaking the needle during the embroidery is significantly lower. Schmetz manufactures such needles.