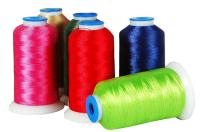 Finally! You've become a happy owner of an embroidery machine.  The euphoria from the purchase is gradually cooling off, and a whole array of questions arises before the new master. What to do next? Which threads to use? Which needles to use and how not to lose your way in a huge variety of stabilizers? In this article, based on my own experience, I'll tell you what's what and indicate issues you should focus upon in the first place and the ones that can be left for later.
Threads
High-quality threads guarantee a long life for your new helper. Let me tell you straight away: you should not use sewing threads for machine embroidery designs. Machine embroidery threads are polished in a special way so that very little or no noil appear. (Noil clutters the mechanism, thus reducing the lifespan of an embroidery machine). I must admit that some embroiderers use the ordinary sewing threads and, what's more, advocate for such usage. Well, everybody should decide for themselves. For me, this is unacceptable, because an embroidery machine costs far too much to risk its health by using threads of low quality. The embroidery threads fit into several categories.
1. Rayon threads
These threads are made of rayon. They have a strong sheen. The embroidery is softer than the ones made with other threads. But there are also disadvantages. First, a sheen given by rayon threads in not always appropriate (for example, in the embroidery on men's clothes). Second, rayon can be weakened by chlorine, therefore, items embroidered with rayon threads must not be bleached. Third, when using a water soluble stabilizer and then dissolving it in water rayon threads lose some of their luster and the embroidery becomes dimmer. Almost every manufacturer has an assortment of rayon embroidery threads. I can recommend Gunold Silky threads, because they are good for their money. On the other hand, the threads made by several Chinese manufacturers have left a very unfavorable impression. Better to spend a little more and embroider comfortably than to use cheap threads and have to deal with persistent thread breakage and knots.
2. Polyester threads
Polyester embroidery threads are practically as good as rayon ones, and in some ways even better. Their sheen is more restrained, they are chlorine-resistant and are compatible with water-soluble stabilizers. There are well-established threads by Amann (Isacord), Gunold (Poly) and Madeira, although the last ones are rather pricey.
3. Cotton threads
These threads are matt-finished, thus helping to imitate hand embroidery. This is of vital importance for vyshyvanka (a Ukrainian traditional embroidered shirt), cross stitch, embroidery on men's clothes and so on.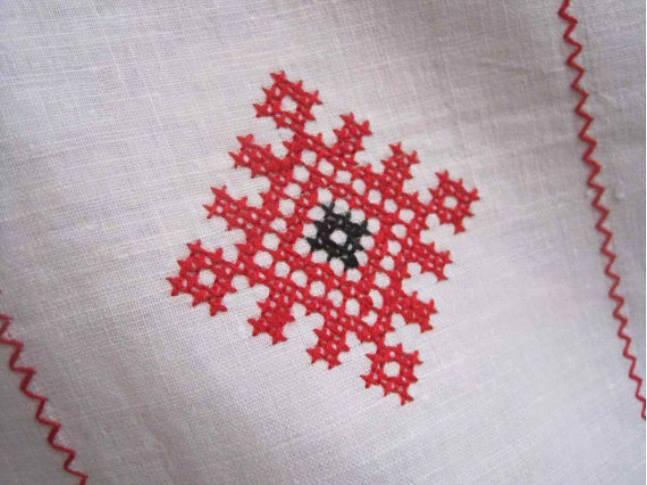 Due to these threads being rather thick, it is recommended to run the machine at a low speed.
Polyester threads with cotton sheath, like the ones made by Amann (Rasant), are a good alternative. They combine the durability of polyester with the matt finish of the cotton threads.
4. Metallic threads
These are essentially durable polyester threads with a metallic sheath.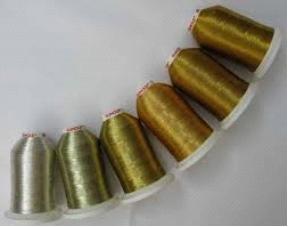 Special needles should be used with metallic threads. Do not cover large areas with them, because they leave miniature notches, and may lead to loops and thread breakage in future.
Other types of embroidery threads
This type of threads includes acrylic threads that imitate woolen embroidery, various fluorescent threads that glow at night, like Glowy by Gunold, chameleonic threads that change their color in the sunlight, etc.
I'd like to place the embroidery underthreads into a separate category. These are the ultra-thin threads that are reeled on a bobbin. They make the wrong side of the embroidery soft without adding weight.
For a beginner, I'd recommend to first purchase a basic floss palette containing 2 or 3 shades of every color + monochromatic colors + underthreads, and then add the necessary colors on demand.
Edited by diver361
2