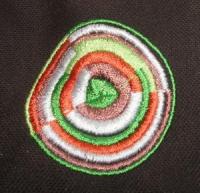 Original text by Marina Belova 
I've long wanted to focus on knitwear, and finally, I got around to it. The first thing I saw was piqué. I've heard numerous horror stories about this fabric and even embroidered some pretty awful designs on it, and now it's time to straighten it all out. 
The key difference of piqué from an ordinary T-shirt is that it doesn't have a smooth surface. The texture of pique resembles honeycombs or a waffle. The fact that this type of knitwear is more vapory is what distinguishes it from the others and requires a special treatment. 
My own (unsuccessful) attempt at the embroidery on this fabric proved that the most important task of a digitizer is to avoid puckering so that the embroidery is soft and pleasant in wear. 
Embroidery on piqué – recommendations: 
Use light ball point (SES) needles. The needle size should not be over #75; #70 is optimal. The rule is simple: a thinner needle will damage the fabric less. 
It's better to use #40 or #60 soft threads, for example, rayon or cotton, for small details. You can use polyester as well, but it is generally regarded as being tricky. 
Piqu

é

should be hooped. Together with a stabilizer. 
The hoop should be as small as possible for a particular design. 
Stabilizers. On this subject, opinions vary greatly. Tradition says to use 2 layers of a cut-away middle-weight stabilizer under the dark knitwear, with strands running in different directions. Under the light knitwear, use one layer of spunbond (a non-show mesh) because the cut-away will show through, and besides, it is not pleasant in wear. Additionally, you may use a temporary spray adhesive. 
Piqu

é

may be covered with a water-soluble film. I think it would come in handy for small letters and small elements of the design so that they don't sink into the fabric. 
When creating a design, it's better to avoid large areas, filled with stitches. Large details better to be replaced with appliques. 
Standard density values are 0.4–0.45 mm. But openwork designs are considered best of all for piqu

é

. 
You should avoid long stitches in the design. 3–4 mm is an optimal stitch length. 
Pull compensation should be no less than 0.4 mm. 
Understitching – single and double zig-zags. They may be combined with the edge run. A full grid should be put under the fills (in case the filled areas are present in the design, after all). Underlay should be moved further away from the edges than on an ordinary fabric. 
The embroidery should be sequenced from the center outwards. 
Try to plan your embroidery sequence in such a way that complex objects are embroidered in one direction in order to avoid gaps. 
Segment overlap: no less than 2 rows in the fills and no less than 2 stitches in the satins. 
Frankly speaking, you'll never understand how a particular design should be embroidered until you actually embroider no matter how profound is your knowledge of theory. That's what all of the above is: a basic theory of embroidery on piqué, nothing more. I began fiddling with piqué with the basic settings that I use for simple fabrics, positioned my design on one layer of tear-away sprinkled with a temporary spray adhesive for additional stability and only then hooped the whole thing and hit the start button. I used this stabilizer because I didn't have any non-show mesh for knitwear and I was trying to use what was available. 
The result was highly unsatisfactory – there were gaps between the neighboring outlines and there was also distortion. The fabric lost its shape while still in the hoop, which means that the stabilizer was ineffective: 

This how the fabric looked after unhooping: 

To get the whole thing right, I modified my design by increasing pull compensation both manually and automatically and also deliberately distorted the outlines in the direction I needed. Additionally, I put an underlay under the entire design, matching my fabric in color, that was meant to hold the design in place: After that, I placed my design on 2 layers of tear-away stabilizer and hit the start button. This is what I got: 


The distortion was still there but it had been visibly reduced, which meant that I was going in the right direction. The only thing left was to get rid of such defects as the gaps between the stitches in the white area and in the green core. Having solved that problem, I stuck my piqué on a middle-weight cut-away adhesive stabilizer and embroidered my third piece. This one came out best: practically no puckering. 

The resulting embroidery was rather dense. It appears that one can embroider a dense design on piqué if one chooses a right kind of stabilizer and modifies the design after doing some tests. In digitizing, guesswork will get you nowhere; you need to see the embroidered design to get a high-quality result. After having conquered this design, digitizing a twig from my article on contrasting colors for embroidery on piqué was kid's stuff: 

It was an openwork design and the result was very soft and nice to the touch, which is a big advantage for a T-shirt. Even an openwork design didn't get puckered. 
Edited by Irina
1