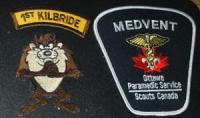 Original text by Marina Belova 
Chevrons (labels, badges or embroidered patches) are a wonderful thing. It is a patch of varying shape and size that helps to adorn (and not only adorn) such parts of a garment and such fabrics that are hard to embroider. Chevrons should be loved if only for that. 
They are one of the main products of many embroidery companies if I'm not mistaken. Among those who do home decor machine embroidery, there is a common opinion that can be described in a succinct phrase: "Pshaw, chevrons! Anybody can do that." 
But if you ask my opinion, reality is quite the opposite: home decor machine embroidery is something anybody can do, even a green as grass digitizer. Why do I think so? Because all those flowers, leaves and flourishes are easier to digitize: any slip will look like a feature. 
Lettering is a different story. A little mistake in compensation, kerning or size, and it's a complete wash-out. And what about geometric objects?
They don't come out as conceived at the first try. Try to recall the ovals that were meant to be circles and rectangulars that were set to be squares. 
So it's hard to escape the conclusion that digitizing and producing chevrons and logotypes requires knowledge, a flawless technique, and skills.
As Stephen Batts rightly put it, a chevron is a puzzle for a common digitizer. Therefore, if chevrons are so mysterious, one should dig into the subject a bit, in order to unveil their mystery. Isn't it interesting? 
So, back to our chevrons. As I found out, there are only 2 types of chevrons: 
Completely stitched ones. There are so-called "chevrons deluxe". 
Chevrons embroidered on a background stitched less than 100%. These are standard chevrons. 
Methods of their production vary depending on the number of stitches. 
For patches that are completely stitched there are only a few variants: 
Embroidery on 2 or 3 layers of a very dense tear-away stabilizer. 
Embroidery on a special film. Gunold offers its 80 microns water soluble film for this purpose, and Madeira — a 100 microns MadeirAS Film. All of these films should be applied in several layers. Manufacturers advise using 2 or 3. 
Patches that are not completely stitched can be embroidered on a variety of materials. Those can be woven fabrics like gabardine, non-woven like felt or special ones like Step, Twilly or Gunold Canvay. 
These chevrons can be reproduced in the following ways: 
Embroider, cut out, serge the edges on a Merrow machine. 
Embroider and cut along the edges. 
Embroider on a badge blank. 
After the embroidery is completed, there is only one step left in making of a chevron of any type — sticking an adhesive foil (like BSN, for instance) to the wrong side. 
As for the choice of threads, one should pay attention to the future use of the item. If it is going to be washed in hot water or whitewashed, you'd better use polyester threads. But you can also use metallics rayon and acrylic threads as well as threads with "special effects". Thread thickness may range from the biggest numbers to the smallest for tiny details and texts. 
As for the software, well, in my opinion, there is no special editor that was meant for creation of the embroidered patches. It is easy to digitize a design for chevron in any embroidery editor, but you need to understand what you're doing and why. 
Here, I covered the basic concept of this embroidery goods. Nevertheless, I call your attention to the fact that all kinds of embroidered patches and the ways of creating them deserve a closer look. Which what I plan to take to in the nearest future. 
2

1