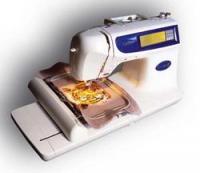 Original text by Yelena Kraftwork 
Broidery.ru magazine 
What is the key part of machine embroidery? If you eliminate the human factor, the first thing that springs to mind is the embroidery machine. It's only after having purchased the equipment that we immerse ourselves into the interesting world of modern technology and machine embroidery. 

Some people choose their first embroidery machine on the spot, whilst others approach it competently, having first figured out what all the terms mean. In any case, a mechanical computer device, carefully wrapped in a factory package, lands on your table. 
Let's first try and get familiar not with certain models, but with their classification on the whole. Maybe, after having made the head or tail of the main machine embroidery products on the market, it will be easier for us to decide in favor of one or other manufacturer. 
Machine embroidery equipment can be classified as follows: home, half-commercial and commercial. 
HOME EMBROIDERY MACHINES 
These machines may make your pastime better and are helpful in decorating garments. The presence of hoops and a possibility of embroidering designs without using manual labor make them attractive for a wide circle of users. 
Hoops are an important feature of these machines. Not so long ago 130x180 mm hoop was something to be envied; nowadays 180x300 embroidery area barely satisfies the needs of an embroiderer. 
Home machine embroidery equipment may be divided into two types: sewing and embroidery machines and just embroidery ones. As you can judge from the name, the main difference is that sewing and embroidery machines have sewing functions as an additional advantage. And if you want to kill two birds with one stone, this type is exactly what you need. A wonderful hybrid of the sewing machine and the embroidery machine well be at your service. 
Time of non-stop run in home embroidery machines is limited, and if you are going to embroider from morning till night, attending to large orders from your clients, you should set your eyes on the next class of embroidery equipment. 

SEMI-COMMERCIAL EMBROIDERY MACHINES 
The balance between price and quality! The queen of small business — a semi-commercial single-head embroidery machine! Ateliers and small enterprises which need the embroiderer's services from time to time are the main users of this class of machines. Higher automation in comparison with home embroidery equipment will spare you the need of constant control over the embroidery process. 
Besides the mentioned pros of this class of machines, their attractiveness is justified by the embroidery speed and the possibility of adding supplementary devices, which will take the machine a step higher toward the commercial equipment: the cording device, sequin device, boring device, etc. Purchasing a tubular hoop will allow you to embroider on caps, socks and sleeves. 
I want to point out that the manufacturers of embroidery equipment tend to furnish semi-commercial machines with as many possibilities as possible, so the boundary between the commercial and the semi-commercial is blurred more and more, making the time of non-stop run and the size of embroidery area, which in the semi-commercial embroidery machines is much smaller, two major differences. 

COMMERCIAL EMBROIDERY MACHINES 
Commercial embroidery machines may be of a single-head or multi-head variety. They also may be divided into two types: single-purpose and all-purpose ones. Single-purpose machines usually perform only one operation. Chain stitch mechanisms, which are used for performing chain stitches and schiffli machines, used mainly for mass-production of lace, fall into this category. 
Machines that perform a whole variety of operations are the part of the all-purpose equipment. As with semi-commercial machines, you can buy additional devices that allow cording, sequining etc. 
The main advantages of the commercial embroidery machines are reliability, the possibility of working in two shifts with a short stop for technical maintenance, and the large size of the embroidery area. 

Choosing this type of embroidery equipment, make absolutely sure that this "workhorse" will not be idling in your workshop. 
***
As you see, the classification of machine embroidery equipment is easy to understand. And, as any classification, is artificial. 
Today's embroidery market offers a wide variety of machines of different brands. We will return to the subject of making a decision about embroidery equipment and attempt to give a detailed review of the pros and cons of particular brands. 
 
Edited by Irina
1