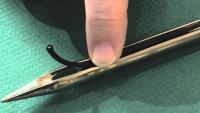 The correct choice of needle type depends on the type of work you want to do and kind of fabric you use.
Fabric type and needle diameter
The number in the name of a needle denotes its thickness (diameter) in hundredths of a millimeter or an inch. The greater the number, the thicker is the needle. Some manufacturers may specify two numbers for one needle, e.g. 100/16 and 120/19. This means that the needle size is given both in mm and in inches.
An 75/11 needle is 0.77 mm in diameter
An 80/12 needle is 0.82 mm in diameter
An 90/14 needle is 0.92 mm in diameter
An 100/16 needle is 1.02 mm in diameter
Fabric type and needle number:
highly stretchable knitwear, cloth with added lycra and other elastic materials – 65-90 size needles;
lightweight fabrics for shirts, blouses – 60-70 size needles;
thin fabrics (batiste, chiffon, crepe-de-Chine, etc.) – 80–90 size needles;
cloth, coarse calico, fabric made out of synthetic fibers or cut fibers, for costumes – 80–90 size needles;
lightweight woolen fabrics and heavyweight synthetic wool, denim – 100 size needle;
heavyweight woolen fabrics – 110 size needle;
coarse cloth, beaver fabric, burlap – 120 size needle;
heavyweight and extremely heavyweight materials (leather, tarpaulin, etc.), for which the needles should be selected individually. Needle number may vary from 100 to 200, depending on the fabric thickness.
Needles may be marked not only with numeric characters but also with letters that denote their application areas, i.e. fabric types and embroidery techniques.



Types of needle points for sewing and embroidery
How to read and understand needle markings
H — universal needles. The needlepoint is slightly rounded; these needles are intended for non-tricky materials, such as linen, coarse calico, cotton, etc.
H-J (jeans) — needles for dense fabrics. Being sharper, they will come handy when sewing thick materials such as denim, twill, tarpaulin, etc.
H-M (Microtex) — thinner and sharper Microtex needles. They are used for piercing microfiber, thin and tightly woven materials, rain slicker fabrics, coated or not, silk, taffeta, etc.
H-S (stretch) — needles for stretchable fabrics. These have a special edge that almost excludes the possibility of skipping stitches while stretching the seam. A round point pushes the yarns apart without damaging them. These needles are used for sewing medium weight knitwear and synthetic elastic fabrics.
H-E (embroidery) — embroidery needles. These have a small eye and a slightly rounded point. Besides, these needles have a special scarf that, along with other elements of a needle anatomy, helps to prevent damage to the fabric or threads. They are intended for decorative embroidery, for which special embroidery threads are used.
H-ЕM – needles for sewing and embroidery with metallic threads. They have a big polished eye and a groove to prevent metallic threads from splitting. Numbers 80 and 90. No 80 needles for thin fabrics. No 90 needles for denser, heavyweight fabrics.
H-Q (quilting) — quilting needles. They are tapered, with a smaller eye and round point in order to prevent skipped stitches and holes on the fabric. These needles are commonly used for decorative stitching.
H-SUK (jersey) — round point needles. They easily separate the yarns and go between them, thus avoiding damage the fabric. They are ideal for thick knitwear, jersey and knits.
H-LR, H-LL (leather) — needles with a cutting point for leather items. They penetrate fabric at an angle of 45° towards the seam. As a result, you get a decorative seam with slightly inclined stitches.
H-O – wing needles. They are intended for decorative seam stitching and hemming with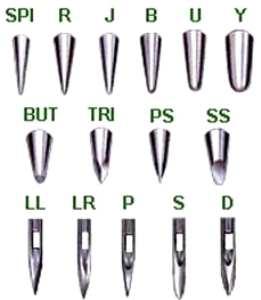 Needlepoint types
decorative stitches. Needles of this type have wings of varying width. Wings can be located on one or both sides of the needlepoint. Using them in places where a needle penetrates the fabric several times will enhance the decorative effect.
H-ZWI – a twin needle. It is two needles bound together with a holder. It is intended for decorative stitching and pin tucks. Also hemming the edges of knitwear items (there will be a zigzag on the wrong side). These needles come in three sizes (70, 80, 90) and three types (H, J, E) only. The distance between the needles in mm (1.6, 2.0, 2.5, 3.0, 4.0, 6.0) is indicated on the package. The higher the number, the greater the distance. 4.0 and 6.0 needles can be used only for stitching straight lines.
H-DRI – a triple needle. Only comes in two sizes (2.5, 3.0). This needle works in a way similar to H-ZWI. One should use stitches specially designed for such needles. If one chooses a wrong stitch, a needle may break and damage the machine or traumatize the embroiderer.
Topstitch – special needles for decorative stitching. They have a large eye and a large groove for a decorative thread (in order to be visible on the fabric, it must be thicker than a standard one) to easily pass through. If you need to stitch a line with loosely spun threads, this is the best needle for that. Sizes 80 to 100. For lightweight, middleweight and heavyweight fabrics.
Needle shank may be color-marked.
blue color denotes a needle for denim;
purple – a Microtex needle;
yellow – a needle for knitwear;
red – an embroidery needle.
Needle types and purposes
Needle type
Needle design
Purpose
Needle #

Universal130/705 H

Normal point, slightly rounded
For almost all types of textiles, fabrics, and knits
60-100
Jersey/elastic
130/705 H-S
130/705 H-SES
130/705 H-SUK
Ballpoint
Jersey, knits and elastic fabrics
70-90
Leather
130/705 H-LL
130/705 H-LR
Cut point
All kinds of leather, faux leather, plastic, film, oilcloth
90-100
Denim
130/705 H-J
Very slim point
Densely woven materials (denim, sailcloth, work clothing)
80-110
Microtex
130/705 H-M
Very slim point
Microfiber fabrics, silk
60-90
Quilting
130/705 H-Q
Slim point
Stitching, quilting
75-90
Embroidery
130/705 H-E
Big eye, ballpoint
Embroidery on all kinds of natural and synthetic fabrics
75-90
Metaphil
130/705 H-MET
Big eye
Sewing with metallic threads
75-90
Cordonnet
130/705 H-N
Small ballpoint, long eye
Stitching with thick threads
80-100
Wing
130/705 HO
A wide needle with wings
Openwork, hemstitch
100-120
Twin-wing
130/705 H-ZWI-HO
 
Special openwork effects
100
Twin
130/705 H-ZWI
Distance between the shanks: 1403 / 1404 QE / 1405: 1.0/1.6/2.0/2.5/3.0/4.0  1405 also: 6.0/8.0
Elastic materials hemming, edge stitching, decorative seams
70-100
Triple
130/705 H-DRI
Distance between the shanks: 3.0
Decorative work
80
Edited by diver361
1

1