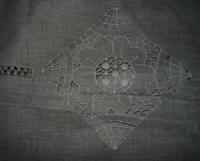 Original text by Marina Belova 
Beside FSL and artistic embroidery with complex tone renditions, there is much hype around the various types of openwork (broderie à jour, the word "ajouré" meaning "openwork" in French). 
There are several types of openwork in machine embroidery: 
Cutwork that can be made with "bridges" or without. Cutwork is a pattern in which pieces of fabric are cut out and outlined with satins. 
Pulled thread work. Yarns in the fabric are pulled in a specific way to create the lacy effect. It should be noted that the yarns are not pulled out.
Various motifs are used to create the interweaving. 
Lacework – pieces of fabric are cut out and the holes are filled with lace. In my opinion, lacework is similar to FSL, which looks as if it has been "embroidered" into the openings in the fabric. 
Richelieu embroidery consists of holes of varying size and shape. Holes can be stand-alone or arranged in a chain-like fashion. They are usually outlined with thick satin columns. 
All of the above types of openwork are widely used in combination with other techniques or on their own, giving the embroidery the rich outer look, which is why they are so popular. 
Almost all of them can be created both in advanced embroidery software and in the simplest one. Although, creating such a design in an ordinary editor will take more time. The same can be said about the type of an embroidery machine: You can embroider on any one of them but you'll use different devices. 
1