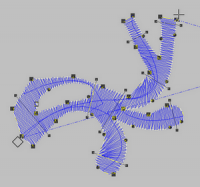 Original text by Marina Belova 
Setting a stitch angle means fitting the stitch direction to the shape of the object. Only two types of stitches can change their direction: satins and fills. There are just two aspects of stitch direction you can control: 
The first is the direction of inclination. This is true, first, for fills and, second, for straight satin columns. Important! Although all stitches in a straight column have one and the same direction, you need to set 2 parallel directions at the object's ends.


Multiple directions. Multiple directions can only be set for the satins of a complex shape. This is true for almost all kinds of machine embroidery software. 

Wilcom, with its Fusion Fill tool, is the only exception. 
This tool is essentially an ability to set a complex outline as one object, which is basically several segments with branches (it often contains openings, too). 

Every segment is a separate object, filled with satins running in their different directions. The editor automatically adds connectors between these objects, sparing you the routine of drawing them manually. The resulting number of segments within an outline depends on starting/end points and the number of stitch directions. The only thing left to do is to set the stitch directions in the object, which can be quite a challenging task. 
In my example Wilcom divided a complex shape into 5 segments that looked like this: 

Main factors that can influence your choice of the stitch direction: 
Creating an effect 
Adding volume 
Avoiding distortion 
General recommendations on the choice of the angle: 
90° angle between the stitch and the outline is considered classical. 

By changing a stitch angle you can visibly separate the stitches in the neighboring objects of the same color. For example, you can embroider an entire leaf with the stitches running in one direction or divide it in two and change the stitch direction. This will add volume. 

When changing the stitch angle from classical to randomly chosen one, be sure to check whether the stitches won't become too long as the result. 
Carelessly set stitch directions or an overabundance of them may lead to the embroidery looking untidy. 

1