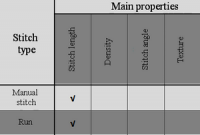 Original text by Marina Belova 
All types of stitches have a bunch of adjustable properties. Control over these properties allows a digitizer to minimize the risk of defects and to produce a garment up to all quality standards. 
There are 2 types of stitch object properties: 
Main stitch object properties include: 
Stitch length 
Stitch angle 
Texture 
Stitch shortening 
Edge shape (stitch profile) 
Secondary stitch object properties are: 
Pull compensation 
Push compensation 
Not all of these can be applied automatically to any stitch type. Some stitch types have a narrower range of properties, some a wider one (see the table below).

All object properties can be changed by a user in the Properties panel. Is is usually called 'Properties', but in some embroidery editors there may be variations. For example, in Stitch Era Universal such a panel is called Object inspector. It looks like this: 

Every parameter in the object characteristics panel is set to a default value. These default values differ from one embroidery editor to another.
They are only the starting points for design digitizing. One should be aware of the fact that these values are not reference standards. All the parameters suggested by the software manufacturer should be revised and adapted for every particular situation and every particular design. The most important factors for the changes are your personal tastes, your embroidery machine peculiarities and the input parameters of the future design: fabrics, threads, etc. 
I'm going to describe all stitch object properties in separate articles. Stay with us! 
Edited by Irina
2

1