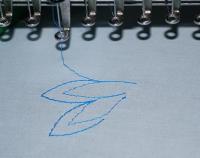 Original text by: Marina Belova 
Once I was thumbing through a Madeira catalog and saw the thread with an interesting effect — it shortens by 30% when steamed and gather the fabric around it. This thread is called Smocking. Manufacturers write that it can be used for machine embroidery. 

I became interested in the result and bought a spool. It turned out to be a rather costly affair – 210 RUR for 200 m of thread! A bit too much a price for such a small length. 
First I decided to read what's written in the brochure that was also in the box. It turned out that there was no difficulty in using this type of thread — all you had to do was to embroider, then steam it from a distance, and everything would be ready. No specific instruments, no extra stabilizers and needles, only the standard ones. Thin fabrics are the best, which is not surprising. The designs are the simplest, like the redwork. 
I've read the instructions and something urged me to read the English variant, too. I revealed that the Russian translation omitted the most important thing — that it was the bobbin thread. It was stated in the end of the first line — 'special bobbin thread'. This means that I can use whatever thread I like for the right side of the fabric, which is by no means unimportant. And I was going to embroider the front side with it: 

Like that. Trust, but check you must, as they say. 
So I created a very simple quilt design of a flower and hooped a plain coarse calico: 

And began embroidering: 

The design was embroidered correctly: 

Then I took it out and turned it wrong side up for steaming. Here it is still flat: 

Now I steam it from the distance without pressing: 

Threads begin to diminish in length, to shrink and to gather the fabric. This is what I got in the end: 

The front: 

The effect promised by the manufacturer was achieved. Even if you try to stretch the fabric to get it back to what it was, the result will be unsatisfactory. 
There is only one thing I cannot grasp: where it could be used? Does anyone know? 
Edited by Irina
2