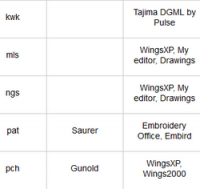 Original text by Marina Belova 
Today there are so many machine embroidery file formats that one may get lost in them. But it is not so important to know all of them as to understand the difference between the editable and the working files. 
In my opinion, all the files should be divided into 2 groups: 
Editable ones 
Working ones 
Editable files 
These files have a lot of different names, both in Russian and in English, where they have originated from. 
In English they are called by the following names:
object file 
condensed file 
native file 
These files contain information about all the geometric parameters of the objects and elements, stitch attributes (density, pull compensation value, color, the applied functions and so on). These characteristics can be easily altered, optimized and edited, the stitches being automatically recounted. 
In order to open such files, you'll need an editor in which they were created. Or at least a converter, "native" to the same software. You cannot convert one "native" format into another. But you can save any machine embroidery file as editable. 
Here are the most common file extensions for different editors: 
*.PXF for Tajima DGML By Pulse 
*.EMB for Wilcom 
*.DSG for Embroidery Office and Stitch Era 
*.MLS for WingsXP or WingsModular, and so on. 
Every type of machine embroidery software has its own native format. 
Working files 
These files have their own names. 
In English they are called by the following names: 
sew file 
stitch file 
machine file 
expanded file 
Regardless of how one calls them, these files are ready for the embroidery: the machine recognizes them. Such a file contains only X and Y coordinates of every stitch, color change, trimming and other data in accordance with the file format. *.DST file format, unlike *.DSZ does not contain information about the colors. 
Stitch format is not perfect either. It is hard to edit. It is not recommended to scale it more than 5—10% in either direction. This is because when increasing/reducing the stitch size, the stitches are not recounted, whereas the design becomes less dense and the stitches become longer or shorter. This may lead to the lesser quality of the embroidery. 
The format can be compared with a bitmap image, consisting of colored blocks — pixels. When increasing, every pixel becomes bigger, when decreasing —smaller. This format can be universally recognized and converted. Absolutely every software starting with the converters and ending with editors can work with it. 
The most common file extensions for various types of embroidery machines are: DST, DSZ, DSB, EXP, HUS, JEF, PES, SEW, VIP, VP3, PEC, ХХХ. 
Somewhere in future there will be an article that contains the complete list of file formats in a table. 
1