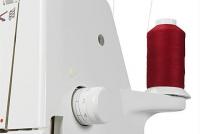 Embroidery manufacture is a rather complex and nuanced technical process that requires vast knowledge and a huge variety of skills. Thread tension maladjustment is one of the main sources of troubles for beginners. In order to choose the right thread tension, one needs to adhere to these rules:
While drawing the thread through a needle, follow your embroidery machine guide step by step.
Having loaded the design into your machine, make adjustments to the thread tensioning mechanism until you get the necessary quality.
ALL the threads should be checked.
Many embroiderers use the so-called l-test that allows one to check the tension of every thread. Having embroidered the 'l' letter with all the threads of all colors, unhoop your test piece and inspect the wrong side. Ideally, the upper thread should only occupy the middle part of every satin column (if satin stitches were used). If the middle part comes out small or is absent entirely, the upper thread tension needs adjustment.
Another way of checking the thread tension is a "FOX" test, also called the "Thirds" test. Stitch out the letters "FOX" on a piece of fabric that will be used for sewing, approximately 4 cm high. After that, turn it with its wrong side out and check the underside: there should be three visibly discernible parts. The lower thread should occupy the middle, while the upper thread fills the two-thirds flanking it. If the upper thread fills more than two thirds, you need to lower the thread tension.
Thread-tensioning is done by operating the two knobs, the upper and the lower ones. Turning a dial two complete circles each way will set it in the outermost position. One shouldn't forget the factors that may influence the thread tension that seem completely irrelevant but will become important once you've changed the machine's speed. You can compensate by setting the dial at the outermost position. Let's look upon some of those factors.
Color The coloring process may alter the thread surface so that it will pass through the machine in a different way.
Thread weight Number 40 threads are commonly used on embroidery machines; denser or lighter threads will pass through the machine in a different way.
The machine's speed Putting on speed, you increase the thread tension.
Needle size Smaller eye causes more friction and increases the thread tension.
Litter Thread tension may be excessive because of the small particles of dust or dirt that have accumulated on the thread
2