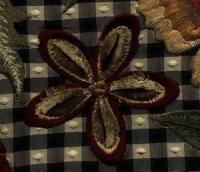 Original text by Marina Belova 
Thread Velvet is a variation of the fringe technique. Judging by those who produce the embroidered fabrics, this is a rather popular way of decorating a simple embroidery, which helps to enrich the look of the embroidery and make it original. 

As the result, the embroidery resembles high-pile velvet and just as nice to the touch. The big advantage of such embroidery and its main difference from velvet is that it's washable. 
This technique is very similar to the well-known sewing technique named chenille, where you slash several layers of fabric, matched in color and stitched together. Then these layers are fluffed so that you get a soft texture like velvety petals of the flowers. 
Technically the process of creating the Thread Velvet is simple and includes 4 steps: 
Hoop the fabric together with the stabilizer. The stabilizer is sorely needed here because the number of stitches in the design is large. 
The embroidery process is not diverse from a usual one. 
Unhoop the item and carefully slash the satin column in the middle on the right side where you plan to create the "velvet". 
Fluff the threads up. 
Digitizing recommendations 
Create several layers of ordinary satins for one object. Satins should be no less than 6 mm wide. Each layer should be placed at a distance from the previous one. It's very similar to how you create volume with the help of understitching. The offset is necessary for the fabric not to be perforated along the outline. 

Each layer if filled with 3 layers of stitches. A main layer and 2 underlays. Stitches in the main layer should be parallel to those in the underlay.
The density of the main layer is set at a standard value; the density of the underlays is determined in each individual case, depending on how fluffy we want the embroidery to be. 
We secure every outline from unraveling along the perimeter in the same way as in fringe: 
with thin satins. Set the stitch length in the securing column at about 1–1.5 mm. 
Running stitch with ~1-1.5 mm stitch length. 
It is believed that:
rayon #40 threads work best. But you can also use the threads of different composition and thickness, only don't forget to set the correct parameters while digitizing. 
You can use color blends here, where every new layer is embroidered with a thread of a different color. 
Sure, the multi-layered embroidery contains a large number of stitches and, consequently, requires a lot of effort while embroidery and later treatment as well as digitizing. But the outer look of the embroidery is worth it. 
P.S. An interesting rendering of Thread Velvet. 
Edited by Irina
2