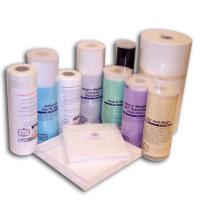 There are two types of stabilizers: toppings and backings.
A top stabilizer (topping) is used to prevent stitches from sinking into loosely spun and textured fabrics. Use a top stabilizer when embroidering on knitwear, velvet or velour to help stitches to stay in place. A top stabilizer won't prevent fabric from puckering. For this purpose, use backing.  For laces, the backing is used as a base fabric.
Machine embroidery stabilizers (interfacing, etc.) in our shop.
Backing
Backings are special, primarily non-woven materials, that provide support and stabilize the fabric during the embroidery, prevent creasing, distortion, and stretch. They are put under the fabric being embroidered.
There are several types of backings: tearaway, adhesive, cutaway, water-soluble, heat-away.
Tearaway stabilizers
Tearaway stabilizers usually consist of paper of varying density (thickness).
Tearaway stabilizers are good for most natural fabrics and give only a temporary support. This kind of stabilizer is easily removed and can be successfully used in cases where the wrong side will be seen (towels, plaids, scarfs and so on). It is also widely used with non-transparent fabrics of fair colors, with thick and densely woven fabrics made of natural fibers (denim, for example). Not recommended for any kinds of knits.
Adhesive stabilizers
These are glued to the wrong side of the item, thus giving it stability.
There are several types of adhesives:
An ordinary adhesive stabilizer with glue on one side. The item is attached to it with an iron.
Adhesive paper with a sticky side covered with a protective layer. This paper is necessary when embroidering tricky fabrics: velvet, cashmere, leather, which are better not to be hooped. And also for the items that are hard to hoop: collars, cuffs, small details.
An adhesive paper is placed in the hoop with a sticky side facing up, then the protective layer the size of the embroidery area is removed, and the item is placed on top. Having embroidered the item, tear the paper away. Example: FILMOPLAST®.
Cutaway stabilizers
Cutaway stabilizers (backings) are used for stabilizing highly stretchable fabrics and provide constant support during the embroidery. One needs them to embroider a machine embroidery design with a lot of stitches, in order to avoid fabric distortion, preventing the appearance of bulges or concavities (the effect stays even after several washes).
A cutaway stabilizer is always thicker than a tearaway. It consists of a non-woven fabric made of long fibers on the basis of polyester or rayon. The way the fibers are arranged in a stabilizer defines its purpose.
If the fibers are mainly single-oriented, it stretches and tears in this one direction. Therefore, to stabilize the fabric properly you need to use 2 layers of backing, positioning them perpendicularly. There are backings of varying density.
Bonding short fibers (polyester, rayon, cellulose) together by solvent treatment, you'll get a non-woven fabric of high quality, which is soft like a tearaway stabilizer, has a smooth surface and does not stretch in any direction. This stabilizer can be of varying density and just one layer of it is sufficient. It is considered the best embroidery stabilizer because it does not add extra volume to the embroidery and does not show through the fabric.
Among the cutaway stabilizers, one should note spunbond – a thin, very soft material that resembles a waffle. USA Poly Mesh or No Show Mesh stabilizers. This kind of backing is good because it does not stretch at all, providing support all the time, and is not visible through the fabric. It comes in various colors and densities. It is used for knits.
Solvent stabilizers
Solvent stabilizers include a water-soluble fabric-like stabilizer and a water-soluble film of varying density. They are used for stabilizing the embroidery when it is necessary to remove the backing without traces. For example, organza, transparent fabrics, FSL, and cutwork.
Water-soluble stabilizers come in two varieties: textile interfacing materials and films
100% polyvinyl alcohol (PVA) stabilizers Both are dissolved in water. Time of dissolution depends on the temperature of water. Approximate valued by Gunold:
20 °C about 3 min
25 °C about 2 min
30 °C about 1 min
40 °C about 15 sec
In real life, water-solubles are not so easily removed, and it takes more than one round to get rid of it completely.
The intended purpose of a water-soluble film depends on its thickness:
Thin (20 microns) Used as toppings for lightweight fabrics.
Medium (35 microns) are used for textured fabrics (velour with and without pile, velvet, fur and loop fabrics). When embroidering small details and letters on textured fabrics the film should be placed on top for better results.
Dense (80 microns) are used as a base fabric for so-called 3D embroidery, FSL, chevrons, cutwork, and as a stabilizer for the fabrics where the wrong side should look good, also for transparent fabrics.
Heat-away stabilizers
They are used when it is necessary to stabilize the fabric, which shouldn't get wet and you need to remove the backing leftovers. They can be successfully used for creating FSL, as well as water-soluble film. They are removed with a very hot iron (no less than 120°) through the paper. Under no circumstances should steam be used with fusible stabilizers.
Upper stabilizers (toppings)
These are necessary to prevent the stitches from sinking into the pile, loops, fur and other materials of that kind, also with loosely-knitted fabrics. Gelatin-based toppings are widely known because they can be easily solved in water. This is what is called a water-soluble film.
There are two types of water-soluble film: thin and thick (dense). Thin film is used practically with everything, thick one – only with high piles.
Next kind of stabilizers is a fusible stabilizer. They are used in cases when the fabric cannot be washed, and therefore, the use of water-soluble film is not possible.
Edited by diver361
3