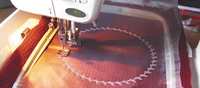 Original text by Olga Armyakova 
Broidery Magazine 
A wide variety of stabilizers is used in machine embroidery. Today we'll dwell on the subject of water-solubles. 
Given that the only the imported stabilizers of this variety can be found on the Russian market, here's the list of names that you may read on the package or a website: 
Water-soluble 
Wash Away Stabilizer 
WSF 
Water-soluble film 
Dissolve stabilizer 
All of the above denote stabilizers that are removed by water. 
They are commonly used as a backing, just as their cut-away and tear-away counterparts. Equally, this is the only type of stabilizer that can also serve as a topping or as your base fabric without any additional materials. 
Water-soluble stabilizers are used when absolutely no traces of additional materials are tolerated. Along with that, they do not contain formaldehyde and, therefore, can be used in underwear and other items where the embroidery is intended to come into contact with the skin. 
Water-solubles can be removed the moment the embroidery is completed or while washing. Having finished the embroidery, you can easily cut or tear the extra stabilizer beyond the outlines of the design, and the bits within them are destroyed with steam or damp sponge. If necessary, a water-soluble stabilizer is washed away in the running water or first soaked in water and rinsed afterward. 
To dissolve the stabilizer in water, use the temperature between 10 and 40° C: this way the color and other fabric properties will stay intact.
Just how long it will take, depends on the manufacturer. The higher the temperature, the quicker the stabilizer will dissolve. I strongly advise against heating the water too much: the stabilizer leftovers may turn into lumps and solidify. 
Make sure to read the stabilizer specifications, because they might contain important points on how to work with this particular type. 
In general, water-solubles expire in 1 year. Better to keep them in a box in a cool dry place away from direct sunlight. Once the expiration date has passed, try to use your stabilizer as quickly as possible, otherwise, it will lose all its properties. This is especially true for thin water-soluble film.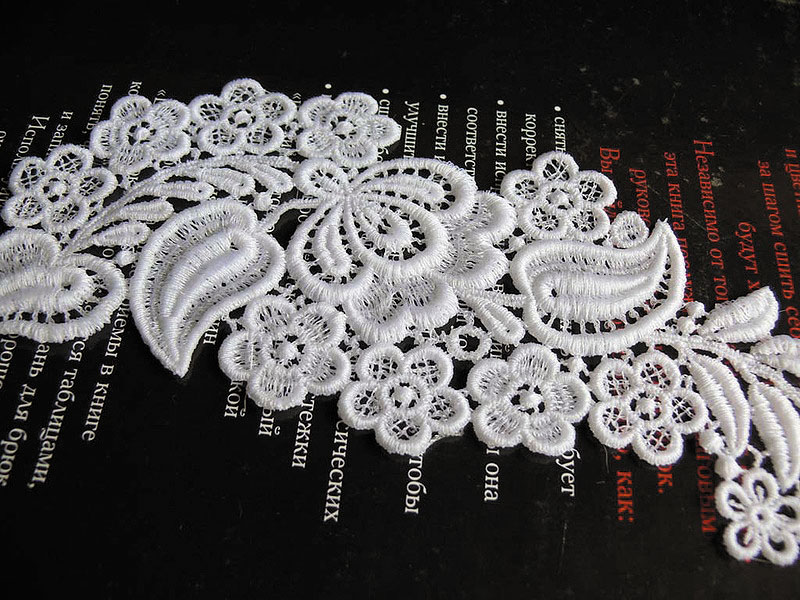 CHOOSING A WATER-SOLUBLE STABILIZER: 
In order to choose a right stabilizer for machine embroidery, you need to take into account the following factors:
The structure of the fabric, type and properties of the fibers 
the density of the embroidery and whether the embroidery will come into contact with the skin
For a lacy design embroidered with polyester threads two layers of lightweight stabilizer will be sufficient, but the same design embroidered with metallic threads will require a denser one.
Let's try to sort the wash away stabilizers into categories and describe their fields of application. I will hereafter use the most common names in circulation. 
WATER-SOLUBLE STABILIZER: DENSITY 
The principal characteristic of a water-soluble stabilizer is its thickness (specified by the manufacturer in microns) or density (g/m2). 
Thin, or lightweight stabilizer 
Thickness: 10 microns 
Composition: Different manufacturers specify different raw materials: 100% polyvinyl alcohol or 100% modified rayon. 
The product looks like a thin plastic film. It is used to prevent the stitches from getting lost in heavily textured fabrics. For example, in knitted garments or ones made of terry cloth, also in piled fabrics. First, you create a stabilizer-fabric-stabilizer "sandwich". Then, in case the fabric is thin or you have an outline embroidery design, you hoop it. 
Medium-weight 
Thickness: 20 microns 
Composition: 100% polyvinyl alcohol or 100% modified rayon 
Some manufacturers' wash away resembles a non-woven cloth, akin to the interfacing material used in sewing, others' is like a thick film. Use it to strengthen the tricky fabrics whenever stabilizer must not be seen. On see-through fabrics, for example. You can use several layers of medium-weight stabilizer spare the fabric. 
Heavyweight 
Thickness: 30 microns
Composition: 100% polyvinyl alcohol or 100% modified rayon 
This one looks like a very thick greenhouse covering film. It is used for embroidering FSL or 3D designs. Fix it in the hoop without your main fabric. The design should be created in such a way that all its elements are interconnected, in order to prevent it from falling into separate pieces once the stabilizer has been removed.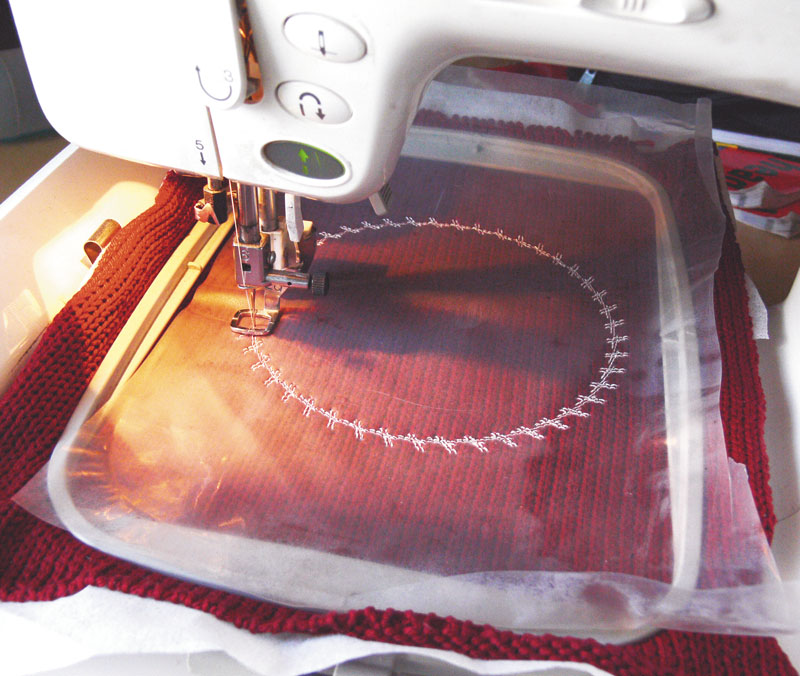 Water-soluble stabilizers in machine embroidery 
WATER-SOLUBLE STABILIZER: VARIETIES 
Unfortunately, there are not many brands of water-soluble stabilizers on the Russian market at the moment. Nevertheless, machine embroidery in our country is buoyant. Many consumables, and that includes stabilizers, can be ordered from online shops. For this reason, I'll describe all types of wash aways that can be found these days. 
First three or four types are non-transparent non-woven fabrics. 
Adhesive 
This is a water-soluble stabilizer with a paper backing. A spray adhesive and a stabilizer rolled into one. Pull away the paper to expose the stabilizer's sticky side. Stick it onto the embroidery area before or after hooping. Having done the embroidery, dissolve it in water. 
This type of stabilizers is used as a backing. 
Fusible 
A tear-away, webbing-like stabilizer that is pressed to the fabric with a warm iron. After the embroidery is completed, it is rinsed away with water, leaving no trace. 
Preventing the fabric from shifting, it is as handy as the adhesive stabilizer, and is, too, used as backing. 
Mesh 
Dense wash away stabilizer that is used for FSL and other laces, or heavily textured fabrics such as velvet, corduroy or knitwear, and also diaphanous and light-colored ones. 
Transparent film 
Is placed on top of knitwear or heavily textured fabrics. Its main purpose is to prevent the stitches from sinking deep. 
The film's advantage is that you can see the fabric and the design through it. That allows us to avoid problems that may arise when we join the designs or their parts together. 
This kind of stabilizer can be used instead of the fabric for such things as 3D designs or FSL. 
It takes a trained eye to define whether the thin transparent film will be able to withstand the pressure of the design at a mere glance. 
Liquid 
Soak the fabric in it prior to the embroidery and let it dry. Embroider your design and wash the design in water. 
Water removable spray 
Is sprinkled onto fabric prior to the embroidery. Be certain to let it dry properly before starting the embroidery. It is rinsed away with water once the embroidery is completed. Besides the spray, you can use the starch powder for ironing that comes in aerosol form as well. 
There are also such domestic methods of firming up fabrics with gelatine or starch, which can be considered the subvarieties of the last one. 
CONCLUSIONS 
Every stabilizer has its specifications and user's manual. I advise you to create a special file to keep track of all the stabilizers, needles and threads used in every project. This will make your future choices much easier. 
Dense water-soluble film. You will easily discern it by sight. It looks very similar to the greenhouse covering material. This stabilizer is used as a backing for laces or, sometimes, as a background fabric. 
Thin stabilizing film. This type of stabilizer looks like a thin polyethylene bag. It is primarily used as a topping to prevent the stitches from sinking into the fabric. 
Dense wash away stabilizer. This one is used as a background fabric for laces. It looks like a sewing interfacing material. 
If the stitches have sunk and the resulting embroidery looks untidy, try choosing another stabilizer or use two layers of the present one, also readjust the thread tension or simply change the bobbin thread and see whether it makes any changes. If nothing helps, blame the design. 
SOME TIPS 
When using the fusible stabilizer, make sure that the iron is set at the lowest temperature possible and do without the steam, otherwise, your embroidery will suffer. 
Don't throw away the accompanying materials to your consumables. It may contain important information, such what time does it take for a stabilizer to dissolve and at what temperature, the density, the brand name and the item number. Staple this information to the stabilizer's package. In future, it will make the process of choosing a right fabric in a shop much easier. 
Don't throw away the stabilizer leftovers after the embroidery has been cut out. In future, they might come in handy: arrange them in the embroidery area of a hooped fabric, and they'll do just as good as a whole piece. 
For denser designs and thicker fabrics, another layer of stabilizer may be needed. I recommend testing the design and the fabric first, in order to estimate the required number of layers. 
Provide yourself with several pieces of stabilizer that will fit your hoop. It is not too demanding a task; arranging those pieces in the hoop in advance will save you time and fabric. 
Before using a water soluble topping, make certain that your fabric doesn't fade. 
When embroidering on knitwear with a film on top, don't forget to stick the background material to the underlay – it will prevent puckering. 
Small trims can be dissolved in warm water and used as a stabilizer liquid to temporarily fix the tricky fabrics.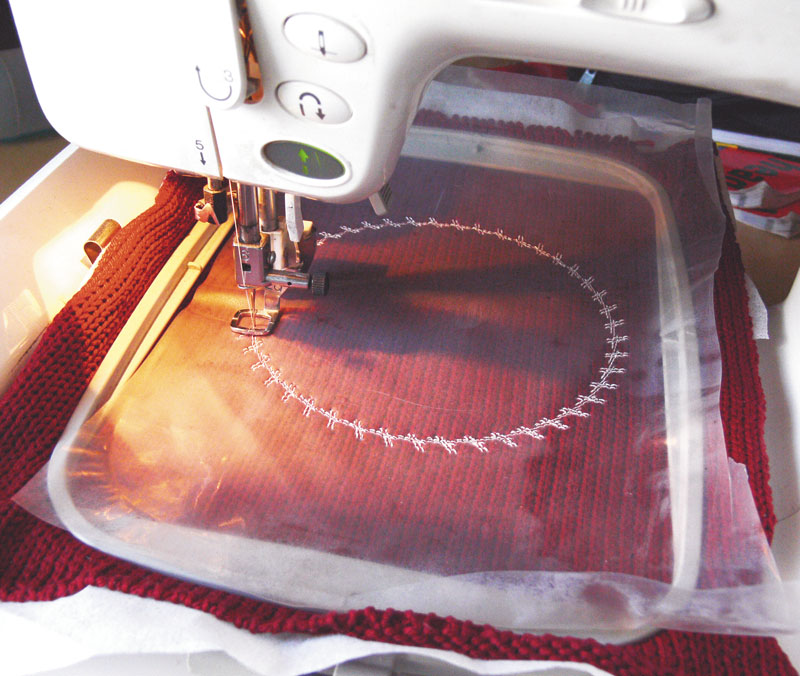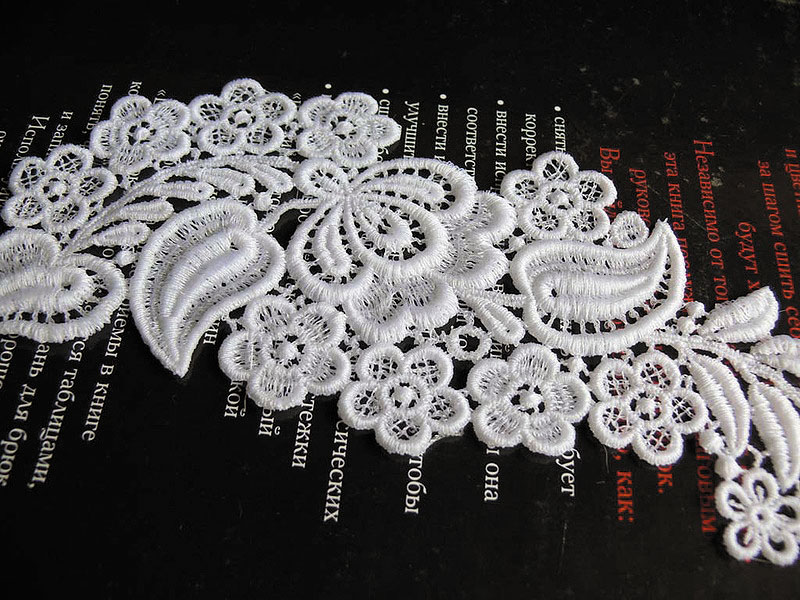 1

1