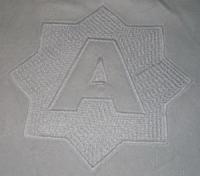 Original text by Marina Belova 
I really cannot say where would we be without the Internet. The Internet is an enormous free encyclopedia where one can find tons of information even on such narrow a topic as machine embroidery. 
While surfing the machine embroidery websites, I, for example, have long set my eyes on this embroidery technique for the piled fabrics (fleece, terry cloth and so on). The technique is often called embossing or trapunto. I guess, "чеканка" or "тиснение" would be the most appropriate words for it in Russian. But you can also call it mock trapunto. The embroidery that employs this technique is very original and good-looking even when the simplest designs are used. This is the alternative method of embroidering logos and very simple designs, which would fail to kindle anybody's interest when embroidered on smooth-surfaced fabrics. 
This is one of my recent embroideries on fleece. It's very simple, but the outer look, the clarity and readability of the letters and the softness of the embroidery don't cease to make me happy. 

The particular feature of these designs is their size – all of them are rather big and contain open areas (or, more often, holes), through which the pile shows. These open areas are surrounded with ordinary fills of a very low density, which trample the pile. As a rule, the fills have thinnish satin borders. 
The embroidery technique is very simple: hoop it and embroider, as you do with piled fabrics with water soluble film on top and the backing that corresponds to that particular fabric type. Usually, the thread matches the fabric in color. 
Digitizing is easy to and everybody can do it, even the least experienced user. 
You create a simple fill of a very low density with openings. The usual density value is 1–2 mm. No understitching. All connector stitches joining different segments run along the edges. The stitch length in fills is reduced to about 2.5 mm. 
For the towels a 2-layer fill is often used, the layers being perpendicular to each other. For fabrics with a smooth surface with a polyester padding one filling layer is enough. The untrampled padding rises above the surface of the embroidery in the open areas, which contributes to the original look. 
Satin stitch border, no less than 1 mm wide and of a standard density, usually runs along the edges. 
All of the above is rather easy to achieve, provided that the designs are simple, and can be done in any machine embroidery editor. Especially when you take into account that a satin stitch border can be created automatically in virtually every contemporary embroidery editor of any level. 
Edited by Irina
1