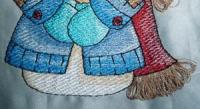 Original text by Marina Belova 
The fringe effect is a special machine embroidery technique, simple yet effective, that allows to look at the design from a new angle and add some volume to the embroidery thanks to the free thread ends. 
Below is the example: 

Technically the process of creating fringe effect is simple and includes 3 steps: 
First, we embroider the entire design in exactly the same way as always. 
Second, we unhoop our item and cut the stitches on the wrong side to create the fringe. 
Third, we fluff the threads up. 
This technique works splendidly for whiskers and tails, hair and fur, flowers, etc. Anything your fantasy can conjure. 
Digitizing 
The digitizing process for creating of the fringe effect is so simple that even a beginner can cope. It's sufficient to know how one creates a wide satin column in the embroidery software. 
So, we create a standard but a very wide satin column. You can set the width at the maximum value for the longest stitches your machine can embroider. The longer is the stitch, the longer the fringe will be. You can have a short fringe, of course. In my opinion, the stitch length should not be less than 5–7 mm, otherwise, it will be difficult to cut the threads on the wrong side. It's better to increase satin stitch density by 15–20%; it will improve the outer look. 
No understitching whatsoever. 
One side the column should be fixed to prevent unraveling. This can be done with the help of thin satin column. Set the stitch length in this column at about 1–1.5 mm. 
You can apply this effect to the ready designs, too. Just create the satins in the way described above and place them on top of the embroidery sequence. Thus, the fringe will be embroidered before other elements. 
Recommendations 
Adjust your embroidery machine so that it does not trim long stitches. 
Ways of cutting the underthread: 
If you want loops, cut the underthread only. 
If you want no loops, cut the upper thread on the wrong side near the edge. 
Very easy, as you can see. 
Edited by Irina
1