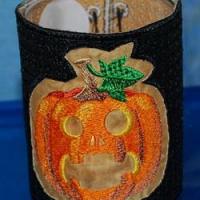 Original text by: Marina Belova
For a long time I've dreamed of making an embroidered cover for a glass candlestick. And I got to do this at last. I chose Halloween as my theme, because I had some interesting ideas. And this is how I materialized them in a standard appliqué with ragged edges:

In order to create this you will need the following materials:
A glass. Something like that:

A candle.

A piece of nontransparent fabric of any kind (felt, faux leather).

A piece of transparent fabric — organza or net (but the sequence for that will be more complex, because in order for the embroidery to look good an understitching will be needed).
The embroidery sequence for a thing like this is not complex: a pumpkin in the center of the transparent fabric + an appliqué cut out of the nontransparent fabric:

The outer size of the trapezoid is based on the perimeters of top and bottom circles and also the height of the glass.
The embroidery process itself is very simple.
I hoop 2 layers of organza:

Embroider the whole pumpkin:

Stick the organza to the faux leather with a temporary spray adhesive:

Embroider the openwork, and do the satin columns, along which the appliqué will be cut out:

Take everything off the machine, cut the fabric around the outer edges. And I also cut the faux leather along the perimeter of a pumpkin so as not to touch organza:

I perforate it and lace it up on the glass:

Then all I have left is to put a candle into it and light it. This is how it looks in the light:

I could use a thread of the color matching the one of the organza on the wrong side, but, because this item is not reusable, I decided against it.
Edited by Irina
1