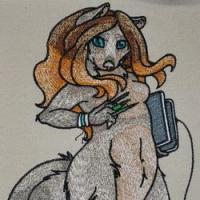 Original text by: Marina Belova 
Today I made a one-size-fits-all dust jacket for my daughter's school diary with a raccoon digitized from her own drawing. This is the front side: 

This is the original drawing: 

Maybe they are not very much alike, but my kid was happy with the result. 
The back side: 

The inside front cover: 

The two-page thread: 

The idea of creating a multifunctional elastic band, which could be used both as a fastener and a bookmark, I got from the Japanese embroidery magazines — extremely clever it is. As for the rest, the making process is almost the same as sewing and embroidering a passport dust jacket. 
You'll need next to nothing: to buy the cheapest diary (I bought the one for 16 RUR), create an embroidery sequence, take 3 pieces of fabric (for front and back sides + a jacket flap) and 2 pieces of an ordinary elastic band. 
So I created an embroidery sequence: 

In order to do this I had to put the frame instead of the hoop into the machine, because the embroidery is almost 50 cm wide. Then I hooped a piece of fabric with 2 layers of the underlay and embroidered the main part of the design, together with a guide stitch with marks in the places where the flap and the elastic would be: 

You cannot see the guide stitch very well on the photo, but it is there: 

Now I put the flap on the left side, which is a square piece of the fabric, creased in the middle. I align the center of the flap with the marks and put the 2 elastic bands on the right. I stick all of this to the fabric with a painter's tape: 

Put a large piece of fabric on top of it the wrong side up to create the inside front cover: 

Now I only have to sew it all together, leaving a small opening, through which I'll turn the item the right way round. This is what the embroidery machine does successfully. The seam is clearly seen only on the wrong side: 


Then I cut the item out perimeter-wise and trim off the corners. I don't remove the stabilizer — it will help the jacket to maintain its shape:

Turn the item the right way round: 

Press it with an iron and sew up the opening. The item is now ready. 
When securing the elastic band with a tape, I decided for some reason that I should stretch it a bit so it could maintain proper tension all the time and hold down the pages. The elastic bands nowadays are very slack. But after the jacket was completed, I understood that I should have bought a thick elastic band, which would not have distorted and pulled the jacket so much. When I'll be making a dust jacket for a sketchbook, I'll do so. 
Edited by Irina
1