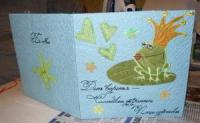 Original text by Marina Belova 
Machine embroidery on paper is rapidly becoming more and more popular these days. This may be various postcards, gift-wrappings, labels, bookmarks, sachet, pictures and so on. Anything really. Any scrapbook can be your source of inspiration. 
A year ago I became excited by the idea of embroidering on paper and decided to give it a try. This is my embroidered postcard: 

I didn't find embroidery on paper all that supernatural. All you need to do is to follow several simple rules. It must be said, that the embroidery on any other kind of material has its own rules that should be followed. 
The main rules of embroidery on paper are: 
1. Get the paper of a particular kind. I've read many articles written by professionals in the field, and they recommend to use hand-made paper. Such paper is made of long fibers and is thus similar to a cut-away stabilizer in structure. The properties of such paper, such as density, texture, color, structure, etc, may vary. You can buy it at any place that offers scrapbooking essentials. 
Nevertheless, in my opinion, you do indeed need the paper composed of long fibers as a basis for your embroidery, but use almost any kinds of paper for small details. 
2. Any threads are good. 
3. The only limiting factor will be thickness because the needles thicker than 75/11 will make too big holes. 
4. Because paper cannot be hooped (or permanent crease marks will appear), you'll need a stabilizer (of a cut-away, tear-away or water-soluble variety), onto which your paper will be stuck. 
You can use an ordinary temporary spray adhesive or even a simple glue pencil like I do. You can also use various adhesive tape if you like. The choice depends on the situation. 
5. The designs for embroidery on paper should be very simple. They should be carefully chosen or created specifically for that reason. 
Such can be designs of a very low density or containing just outlines (made with running stitches). If satin stitches and fills are present, use a dense cut-away stabilizer. 
Stitch length should be no less than 2 mm. 
In other words, you can use running stitches, motif stitches, appliques, low-density fills without an underlay, low-density zig-zag stitches and satins. 
6. When embroidering an applique, it's better to use templates. 
This is all, in a nutshell. 
The rest is for trying and experimenting. 
Edited by Irina
1

1