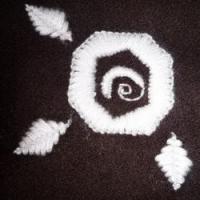 Original text by Marina Belova 
I'm currently raking my brains about embroidery with a woolen thread, or, to be more precise, with an acrylic one — I want to embroider a very simple design on a pillow, black on the white-and-gold background. It will match the wallpaper and sofa in my room. Besides, if you embroider on wool with a woolen thread, the pillow will be agreeable to the touch, which is nice. Sadly, there is little information on embroidery with this type of thread, except the most basic one.
It's not that I do not understand how to use it, but I still want to see how it looks in reality. Suddenly I have come across the Husqvarna Handlook Needlework design collection, which is imitating hand embroidery with woolen threads. The photos from this collection are very inspiring — they prompt you to try and embroider all of this yourself. And besides, it is always good for the brain to scrutinize someone else's design from every angle. 
So I went through their files: took measures, counted stitched, chose a design and tried to create something like that myself. Judging from what I've seen, I've figured out that a design like this is based on a very simple principle — use of the motif stitches and satin stitches. The motif stitching, if I got it right, should resemble something like this: 

I would never imagine anything like it for the woolen thread. All the basic principles of digitizing, like making longer stitches for thicker threads, are swept away by the length of connector stitches, which Husqvarna digitizers successfully use in their work. To see these nuances you need to study the works of other people, for there is always someone who knows more than you. I think I've already expanded this topic. 
This is how my design looks: 

My first sample with 1.5 mm long connector stitches turned out to be rather dense: 

I reduced the density by increasing the connector stitch length to 2 mm, and got a much softer result: 

It doesn't look very good, of course, but now it's clear that this technique requires another, simpler design and repeating of satin stitches several times at the same place is definitely unnecessary. I created a design: 

Here it is already embroidered: 

The result in not that bad, the only thing that disturbs me is that the connector stitches are visible between the repeating stitches, creating a so-called beaded border: But with a right type of the design everything will be good. Or you can hide this border by changing the angle of the connector stitches in relation to the next row of repeating stitches. But in this case the stitches should be done by hand, and I don't like the idea of it. 
So I decided to return to the basics of the technique I set out to imitate. Having opened a book, I was surprised to see that the embroidery with woolen threads looks exactly the same as an ordinary one — satin stitches, running stitches, other decorative elements that are not available in machine embroidery. Although there is a similar stitch. It is called the Fly Stitch and is mostly used for small leaves. Below is the example taken from Trish Burr's book called Crewel and Surface Embroidery: 

And then I got an idea of using 3 or 5 layers of satin stitches of low-density instead of motif stitches so that to avoid this border. For is will not make all the elements look better. 
In order to try I created a design with 3 layers of stitches of 1.5 mm density: 

Here's the sample — columns look monolithic. 

I think that if one lowers density even more, to 2 mm, it will be a good imitation of hand embroidery. But the "border" technique will do for several kinds of designs. 
Perhaps, someone will share their thoughts on embroidery with woolen threads? So we would not be reinventing the wheel. 
Besides, today I found out that the tension of the acrylic thread should be increased. There won't be any breakages: everything looks splendid.
But loose tensioning leads to "bird nesting". 
Edited by Irina