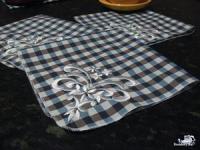 Original text by Yelena Kraftwork 
The history of napkins goes back for centuries. People used them to clean their hands in the times when forks and spoons hadn't yet been invented. Napkins come in various shapes and sizes: rectangular, square, even round. Even the simplest napkin may become a nice decoration for your dinner table if you machine embroider it. This master-class will tell you how to embroider 4 napkins in one go. 

Embroidery on napkins Materials: 
Tearaway adhesive stabilizer 
Embroidery threads 
Machine embroidery design 
Embroidery or sewing and embroidery machine 
200*200 mm frame (or larger) 
Four 300*300 mm napkins or pieces of fabric 
In this masterclass, I used a custom design from Brother Innov-is 1E sewing and embroidery machine's memory. You are welcome to choose any of embroidery designs from our shop. 
Embroidery on napkins The making process: 
Cut a piece of stabilizer slightly bigger than your hoop. On the adhesive side draw the central lines with a fabric marker. Put your napkins onto the stabilizer in accordance with the lines. 


Provided that you have a frame over 200*200 size, you can embroider all 4 of them in one go. 
Place the napkins onto the stabilizer and press them together with an iron. The temperature depends on your type of fabric. Hoop the stabilizer together with the napkins so that the center lines register perfectly. 



Choose your design and place it at the angle of 45° on all napkins. 


Embroider the designs. Finish the borders with rolled hems on your overlocker or in some other way. Now you have a set of embroidered napkins that can make your friends envy when you invite them for tea. 
 



3